Invermere Mayor and small business owner Gerry Taft will seek the BC NDP nomination to represent Columbia River Revelstoke in the upcoming 2017 provincial election.
Taft is a long-time municipal politician who began his career as a District of Invermere councilor at the age of 20, and is currently in his third term as mayor.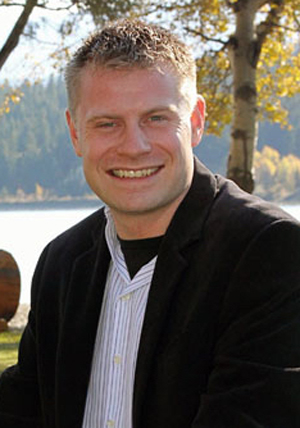 "Although I very much enjoy my current position as Mayor of Invermere and serving on the Regional District of East Kootenay board, I find that many of the most frustrating aspects of my current position involve interactions with and the failings of the current provincial government," he said in a statement issued Wednesday, June 1. "I think there is a great opportunity to make our province better for every British Columbian, but that will only happen with a change of government."
Taft is the owner of Gerry's Gelati Café, with locations in Invermere and Radium, as well as the Stolen Church Coffee Co.
Taft acknowledges that Norm Macdonald, who has represented the riding since 2005, leaves very big shoes to fill.
"Norm, although he is always modest, respectful and diplomatic, is a very strong voice for the people of this region. I've known him since he was first elected, and I've admired the way he has represented our interests. He always put his constituents first, ahead of any personal benefit. And he has provided support and guidance to me as mayor, and as a friend."
Local BC NDP members in good standing for a minimum of 90 days will be eligible to select the candidate that will represent the party in this riding. The nomination convention is expected to occur in the fall.
The NDP is very active in this riding and a number of candidates for nomination are expected to put their names forward in the weeks ahead. However, no one from Revelstoke has so far announced their intention to run.
"I am expecting a vigorous race with a range of candidates," Taft said. "Unlike the BC Liberals who had an acclamation in May of the same candidate who ran unsuccessfully in 2013, the position of NDP candidate for 2017 will be heavily sought after.
"I will be travelling across the riding throughout the summer in preparation for the nomination. I'll be talking with current members and selling memberships to those who want to be part of choosing the next candidate for MLA. And I'll be preparing for the election campaign which will get underway in the fall.
"I have always been passionate about rural communities, and I've never been afraid to fight for what is right. And as a small business owner I know that a resilient economy is made up of successful local small businesses that support a healthy environment and robust community. This is why I'm running for the BC NDP, to be the next MLA for Columbia River Revelstoke.".
Taft said he is looking forward to speaking with people across the region. His phone number is 250 341 1202 and his email address is gerry@gerrytaft.ca.
Look for Taft on Facebook at www.fb.com/GerryTaftBC and on Twitter at @TaftGerry.
Gerry Taft's Official Biography:
Born and raised in Invermere
First successful election for class council elections in Grade 5, followed by an interest in provincial politics through his participation in the BC Youth Parliament
First business venture launched at the age of 17; a hot dog cart
Graduated from David Thompson Secondary in 2000 and earned a diploma in Hotel Restaurant Management from Thompson Rivers University in Kamloops in 2002
Political career:
2002 – 2008:Municipal councilor for the District of Invermere
2008 – present: Mayor of District of Invermere
Director for the Regional District of East Kootenay (RDEK)
Director for the East Kootenay Regional Hospital District (EKRHD)
Elected by his political peers in 2011 as a Director for the Association of Kootenay Boundary Local Governments (AKBLG), and has served as Vice-President for the last two years
Elected in 2014 as Director for the Union of BC Municipalities (UBCM)
Community activism:
Led the fight in the Columbia Valley against the Harmonized Sales Tax (HST)
Longstanding and vocal opponent to the Jumbo Resort and the Jumbo Mountain Resort Municipality (the fake town of Jumbo)
Personal life:
Gerry lives in Invermere with his partner Nozomi, their lazy dog Piper, and their 17 month old son Kelvin