The Revelstoke Racquet Den Squash Club will be hosting a world-class squash exhibition match between former World #1 Ladies Player Rachael Grinham and former World #2 Ladies Player Jenny Duncalf on June 9. The event will start with an on-court Junior Session with Grinham and Duncalf from 5:30 to 7 pm, followed by the match from 7:30 to 8:30 pm. There will be a Q & A Session after the match.
Tickets are $40 for adults and $40 for juniors (Includes the 90-minute on-court session with Jenny and Rachael.) Tickets are available for purchase at the Visitor Information Centre at 301 Victoria Road. This event will take place at the Revelstoke Racquet Den in the basement at 207 Mackenzie Avenue.
This is an amazing event for our club and Revelstoke to be hosting," Club President Kevin Dorrius said in a statement released on Thursday, May 26. "Having players of this calibre coming to play in our club is truly remarkable and a great opportunity for us all to see the game played at a world class level."
He said the event came about when the club learned that the players were in exhibition events in Vancouver and Calgary on June 8 and June 10, and would need a stopover on the way between the major cities. Once they heard about the club, they were very happy to make arrangements for the match.
Player Biographies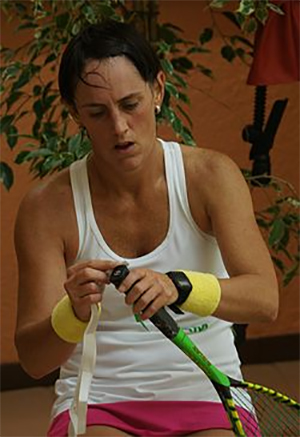 RACHAEL GRINHAM
(Currently Australian #1 and PSA World #20)
Former World No.1
Former World Champion
Former World Junior Champion
4 x British Open Champion
3x World Teams Champion
2 x Commonwealth Games Gold Medallist
31 PSA Tour Championship Titles
Former World Champion Rachael Grinham is one of the most recognisable names on the PSA World Tour with a lengthy career that has seen her win some of the biggest prizes that the women's game has to offer.
Hailing from Toowoomba in Australia, Grinham became the youngest ever World Junior Champion aged 16, the only player ever at the time to be able to defend the coveted Title.
Winner of four British Open Titles (famously dubbed "The Wimbledon of Squash"), and having held the World #1 Ranking for 16 consecutive months between 2004-2005, she finally claimed the World Championship Title in 2007, beating her sister Natalie in an historic first ever World Championship Final between two sisters.
A permanent fixture in the Women's World Rankings, ranked in the World's Top 10 for over a decade, she also incredibly held a ranking amongst the World's Top 5 for over 8 years.
At 39 years of age, Grinham's experience, skill and athleticism continue to keep her contending with the world's top players on the PSA World Tour.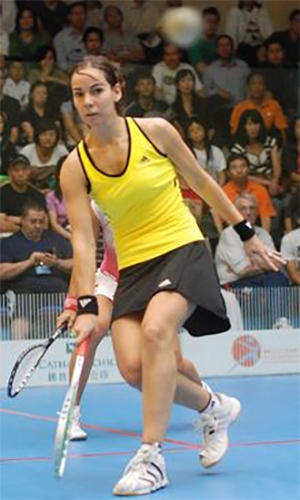 JENNY DUNCALF
(Currently World #16 and PSA Women's President)
World No.2
US Open Champion
Qatar Classic Champion
3 x European Champion
2 x British Champion
3 x Commonwealth Games Silver Medalist
100+ England Caps
World Teams Champion
European Teams Champion
10 PSA Tour Championship Titles
Duncalf has amassed a number of titles over her career, reaching a career-high World Ranking of #2 in a decade dominated by Nicol David.
Reared by her step-father and world renowned coach, David Pearson, the skilful Duncalf won a number of National and European Championships before breaking into the World Top 10 in 2005.
Ranked #2 in the World in 2009 she looked set to be the one to knock Nicol David out of the top spot when she defeated David twice in a matter of months to win the US Open and the Qatar Classic.
Injuries have proven a struggle for Duncalf in recent years although she still firmly remains in the World Top 16.
Possessing a huge wealth of squash knowledge from very much a pedigree background, Duncalf has covered most continents taking on coaching roles in England, America, Canada, Australia and Korea.