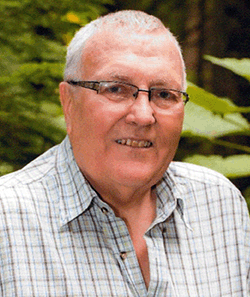 Colin was born to Margaret and George Duddy on June 23, 1945, in Victoria, BC. He grew up living right on the ocean and enjoyed a happy childhood there as the youngest of three boys.
Colin married his wife, Debbie on May 16, 1970. Their first child was born in 1975. Colin and Debbie were blessed with four children: Nathan, Amanda, Matthew and Joshua.
In 1984 they settled in Revelstoke, BC, where Colin started working as a saw filer at Downie Timber. He continued there until his retirement in July of 2006.
In 2010 his first grandchild was born. Colin was blessed with four grandchildren: Maddox, Lanigan, Solan and Ferguson.
For the last 10 years of his life, Colin fought a courageous battle with cancer. His battle ended in the evening on April 29, 2016, with his family around him.
Left with many precious memories of Colin are his wife Debbie, his children Nathan (Youmi) Duddy, Amanda (Terry) Grimas, Matthew (Christa) Duddy, Joshua (Jessica) Duddy; his grandchildren: Maddox, Solan, Lanigan and Ferguson, as well as Colin's brothers George and Paul Duddy.
The Duddy family would like to thank the nursing staff at the Queen Victoria Hospital in Revelstoke, the staff and pharmacists at Pharmasave, Dr. Leslie and all of the family and friends who supported them during the last weeks.
A Memorial Service will be held at the Kingdom Hall of Jehovah's Witnesses on Saturday afternoon, May 7, 2016, at 2 pm with Terry Grimas the speaker.
Messages of sympathy may be sent to Colin's family by viewing his obituary at: www.brandonbowersfuneralhome.com.
Cremation arrangements are in the care of Brandon Bowers Funeral Home, Revelstoke.