By David F. Rooney
It's been a dream that local physicians have nurtured for years and now — with a lot of work — it may come true: a functioning helipad at Queen Victoria Hospital.
The Revelstoke District Health Foundation has unveiled a plan to build a modern helipad that could make the difference between Life and Death for the victims of serious accidents in the backcountry and on the Trans-Canada Highway.
The pad comes with a hefty price tag — $465,000 that the foundation will have to raise. Interior Health will operate the pad but because it is not an upgrade to an existing pad it will not pay for the capital cost of a new one. Oh, there is a pad just to the north of the parking lot on the hospital's East side but is a crude and crumbling slab of concrete that is not sanctioned and regulated — as it must be — by Transport Canada.
Dr. Cam Mulder has long advocated for a helipad at QVH and, at a meeting in the hospital boardroom late Tuesday afternoon, May 17, said it would be "absolutely worth every penny."
Trauma patients who need fast transport by helicopter to and from QVH, which sees a lot of trauma patients every year, can ill afford even the short delays of five or 10 minutes that occur when they must be transferred to and from the airport via ambulance with all the loading and unloading of themselves and the equipment they are connected to.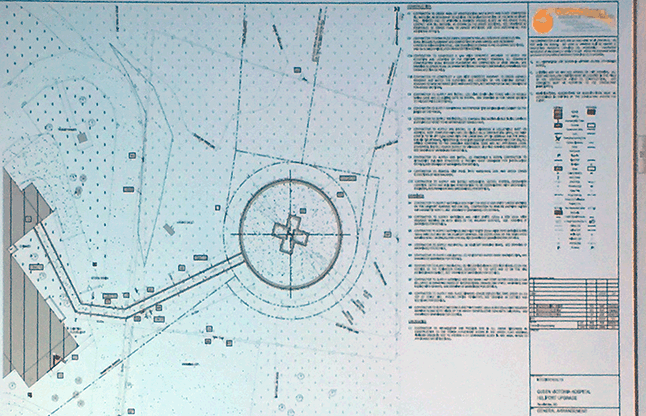 Lucas Miller, the man Interior Health has selected to lead this project, said the new pad will be classified as an H3 Heliport that can accommodate single-engine choppers. It is, he said, "a fairly straightforward design" that can be built in a single building season. It will be connected to the QVH emergency department by a covered walkway.
The new pad would require a manager and, of course, snow clearance every winter. As well, there would likely be regular maintenance costs. Those costs would likely be included in the hospital's budget because while Interior Health will not pay to build the pad, it will maintain and operate it.
Still, $465,000 is a lot of money and Vice-chairman Steven Hui says the Health Foundation doesn't have it. Be that as it may it is forming a committee to oversee the campaign it needs to raise the cash. And he suggested the committee will look at its options, including the possible hiring of someone who knows how to raise a large amount of money like that.
"The foundation needs someone who can pull this all together," he said at the meeting.
If you'd like to help out please contact the foundation by e-mail at info@revelstokehealthfoundation.com.
For more information about the foundation please click here to visit its website.
Please click here for more information about QVH and click here to visit the Interior Health website.