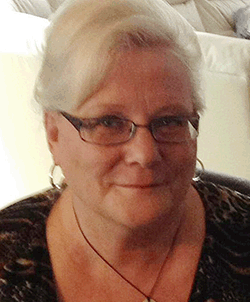 Marlene Florence Long passed away at Queen Victoria Hospital, Revelstoke, on Saturday, April 16, 2016, at the age of 62 years. A Celebration of Life Service will be held at Three Valley Gap on Saturday, April 23, at 2 pm. In lieu of flowers, memorial contributions may be made to the Multiple Sclerosis Society of Canada, B.C. Division, 1501 – 4330 Kingsway, Vancouver, B.C. V5H 2H9, in memory of Marlene.
Marlene was born in Kaslo, BC, on June 5, 1953, and had been a resident of the Revelstoke area since 1994 and worked at Three Valley Gap since 2000. She enjoyed bowling, gardening, cooking and cake decorating. Marlene was an avid golfer in her younger years. She especially loved travelling.
Marlene was predeceased by her parents, Arthur and Marion Belt and her husband Danny. She is survived by three children: Nathasha, Naomi and Dawson; eight grandchildren: Connor, Alyssa, Kasia, Gunner, Danee, Devyn, Morgan and Jean; her twin sister Marilyn; siblings: David, Llano and Norman as well as numerous nieces and nephews.
Three Valley Gap will be taking donations to go towards a bench in the gardens of Three Valley, in Marlene's memory.
Messages of sympathy may be sent to Marlene's family by viewing her obituary at: www.brandonbowersfuneralhome.com.
Cremation arrangements are in the care of Brandon Bowers Funeral Home, Revelstoke.