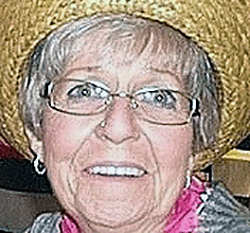 Joyce Lorraine Borho (nee Nesbitt) was born in New Denver, BC, on September 21, 1947, second daughter to Fredrick and Wilhelmina Nesbitt. Joyce as a child was an outgoing, adventurous, fun loving young girl who loved to write poetry and to skip school whenever possible!
She married Maurice Borho on July 3, 1965, in Edgewood, BC. Together they made a beautiful life which included their three wonderful girls, Kari, Renee and Tracey. Aside from a few short years lived in Vernon, B.C., Joyce and Maurice made their home in Edgewood.
Joyce worked as an Education Assistant for many years at the Edgewood Elementary School at which she was truly remarkable. She had a way with students and her humour and fun loving nature made the kids feel at ease with her.
Cooking, cleaning and gardening were just a few of Joyce's hobbies that brought her much joy. She loved to be outdoors and gt her hands dirty planting and tending to her flowers and vegetable garden.
Her children were her pride and joy. There was never anything that was too much or too big for her to do for her children. She often put their needs, wants and desires ahead of her own in order to give them the best life possible. Joyce loved babies! All who knew her well knew that about her. So with the birth of her first grandchild, Kyla, she was beyond excited! With each grandbaby that followed the excitement never dulled for her! Each one of them was truly a blessing in her eyes.
Joyce relocated from Edgewood to Revelstoke in October 2012.This was a difficult transition for her having lived in Edgewood most of her life. Her children were very proud of how well she adjusted. Her amazing personality and love to socialize quickly made her a group of wonderful friends over the last 4 years. Joyce was the best friend anyone could ask for! Loyal! Compassionate! Kind! Generous! From doing errands for people to just stopping in to say "hi" or proudly delivering her outstanding homemade buns, nothing that was too much for Joyce.
Joyce is survived by her loving daughters, Kari Wall (Lynn) of 108 Mile Ranch, BC, Renee Detta (Kelley) of Castlegar, BC, and Tracey Schiller (Blair) of Revelstoke, BC; her six loving grandchildren: Kyla Wall (Will) Peace River, Alberta, Brittany Wall (Brent) St. Stephen, NB, Lindsay Percy (Wade) of Sylvan Lake, Alberta, Mitchell Detta, Burton, BC, Courtney Schiller, Coldstream, BC, and Danica Schiller, Revelstoke, BC; one great grandchild Tucker Hamilton, St. Stephen, NB; her sisters: Georgina Borho (Pat) Cranbrook, BC, Betty Meier (Rolf) Sherwood Park, Alberta, numerous nieces, nephews and a magnificent circle of friends.
Joyce was predeceased by her parents, Fredrick and Wilhelmina Nesbitt and sister Darlene Wurz (nee Nesbitt).
Joyce left this world peacefully on April 3, 2016, with all three of her children and her sister Betty at her side. As Winnie the Pooh said "How lucky I am to have had something that makes saying good bye so hard". This quote is the words that each one of her children is carrying with heavy hearts. Mom you will be missed forever and never forgotten.
A celebration of life will be held at Revelstoke Community Centre on April. 23, 2016, at 11 am. In lieu of flowers a donation in Joyce's memory can be made to the ICU at Royal Inland Hospital, Kamloops, B.C.
Messages of sympathy may be sent to Joyce's family by viewing her obituary at: www.brandonbowersfuneralhome.com.
Cremation arrangements are in the care of Brandon Bowers Funeral Home, Revelstoke.