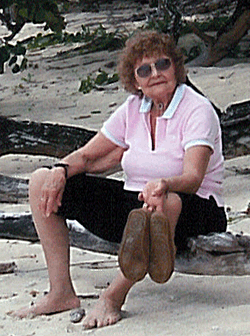 Esther Gizela Calay passed away at her residence in Revelstoke on Thursday, March 10, 2016, at the age of 86 years.  A Celebration of Life Service will be held at the Revelstoke United Church on Wednesday, March 23, 2016, at 2 pm with Reverend Dan Meakes officiating. In lieu of flowers, memorial contributions may be made to the Revelstoke Humane Society, P.O. Box 340, Revelstoke, B.C. V0E 2S0, in memory of Esther.
Esther was born in Yorkton, Saskatchewan, on March 2, 1930, and had been a resident of the area since she was six years old. She was a member of the Eastern Star Ladies and a Star Point Chaplain and a member of the United Church Women. Esther enjoyed curling in her spare time and anything to do with her kids and their friends. She was 'Mom' or 'Nanny' to many of them, always listening and giving advice.  She was also a big animal lover… especially loving all her cats and dogs. She was involved with her children in Cubs, Scouts, Brownies, figure skating, hockey and softball.  She was a ticket taker for the Revelstoke Rockets hockey team and played Santa for the boys.  Esther had a very strong faith in God.
Esther was predeceased by her parents and her husband Marcel in 2012.  She is survived by three children: Lavone Calay (John Smith), Glenn Calay and Jo-Anne (Emmet) Anderson all of Revelstoke; three grandchildren: Leanne Anderson and Ian (Jordie) Anderson of Revelstoke and Israel Calay of New Zealand; great granddaughter Mallory Anderson (Derek Hascarl) of Revelstoke; great great granddaughter Aleigha Grace of Revelstoke as well as numerous nieces and nephews in Belgium.
Messages of sympathy may be sent to Esther's family by viewing her obituary at: www.brandonbowesfuneralhome.com.
Cremation arrangements are in the care of Brandon Bowers Funeral Home, Revelstoke.