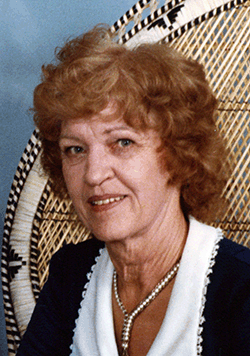 Elva Verna Torgunrud passed away at Queen Victoria Hospital, Revelstoke in the early evening of March 4, 2016, surrounded by her family. Elva was 84 years old and died of complications from a fall and broken leg. A Memorial Service will be held at the Revelstoke United Church on Saturday afternoon, March 12 at 1 pm with Gary Sulz officiating. There will be a viewing at Brandon Bowers Funeral Home from 11 am to 12 noon. Interment to follow in Mountain View Cemetery, Revelstoke.
Elva was born in a log home on the family farm in Lintlaw, Saskatchewan in 1931. Her dad named her Elva which means eleven in Swedish. Elva's parents had immigrated from Sweden to find a better life in Canada. Mom grew up during the Great Depression on this small farm with no electricity or running water. Although it was hard life she often spoke fondly of this time growing up in a large loving family. Elva was the youngest of 11 children. In her later years Elva moved to Revelstoke to be closer to her children and grandchildren who she dearly loved.
Mom loved people and took great joy visiting with old friends and making new ones. Elva also loved to spend the day gardening in her children's yards. She would bring her lunch and a thermos of tea and make a day of it. As she got older her scooter allowed her to shop, garden, and even go fishing on her own. She was fiercely independent and her scooter allowed her to be mobile all year round. Mom always had kind and encouraging words for the people around her, as many prairie folk do. Even in her last days her doctor said she handed out compliments like handing out candies.
Elva was predeceased by her father Peter Wallin, mother Matilda Wallin, husband Melfort, sisters Anne and Vera, and brothers Rhudolf, Walter, Herman, Melvin, Martin, and Roy. Elva is survived by her sons Russell and Randy (Lynn) daughters Tammy Johnson (Brian) and Jayna Atchison (Wes) six grandchildren and five great grandchildren. She is also survived by her sister Hazel Gregoire in Penticton and brother Robert Wallin in Regina.
Messages of sympathy may be sent to Elva's family by viewing her obituary at: www.brandonbowersfuneralhome.com.
Arrangements are in the care of Brandon Bowers Funeral Home, Revelstoke.