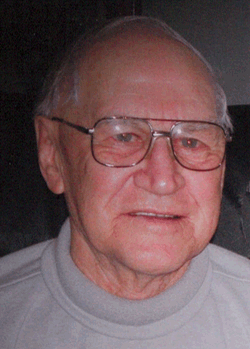 Gordon Peterson died on March 14, 2016, in Palliative Care at Mt. Cartier Court, Revelstoke after a very long struggle with cancer.
There will be no formal funeral service by Gordon's own request. In lieu of flowers, memorial contributions may be made to the Canadian Cancer Society, in memory of Gordon.
Gordon was born in Flin Flon, Manitoba, on August 8, 1932. He was the youngest of six children. Life was hard and money was short. At the age of 13 years, Gordon lost his mother to cancer. Not long after, he quit school and began a life of hard labour; from driving gravel trucks to a long career as a diamond driller which took him all over Canada and the USA. He was a very intelligent man, interested in history and the world around him. He had a quick wit and a sense of humour sometimes hidden under a gruff demeanour. After semi-retirement from diamond drilling he moved to Revelstoke. While here in Revelstoke he served the community as an animal control officer before finally taking full retirement. Gordon enjoyed watching curling and his beloved Canucks on TV. He also spent many hours enjoying a good book; westerns were his favorite. Revelstoke was a high point in Gordon's life, here is where he met his beloved Elli. Besides Elli, he had another love affair… with cars, and it was in these cars that he and Elli loved to travel. Simply put, a few days in Flin Flon, Manitoba, to visit the family and then a few days later in Reno, Nevada; such was the life that they enjoyed.
Gordon was predeceased by his parents and by his five siblings; Leonard, Kenneth, Estella, Helen and Louella. He is survived by the love of his life, Elli Woolsey of Revelstoke, niece Marilyne (Ron) Johannson of Tsawwassen, BC, along with a number of good friends.
Messages of condolence may be sent to the family by visiting Gordon's obituary notice at www.brandonbowersfuneralhome.com
Cremation arrangements are in the care of Brandon Bowers Funeral Home, Revelstoke.