Revelstokians are being invited to join spiritual hands with people in Nepal's Tsum Valley, which was badly hammered during last year's earthquake, in a special event at the Performing Arts Centre on April 30 from 7 until 9 pm.
"The evening will start with a Buddhist welcome from Dungse Lama Pema who will skype in, abbot of Thrungu Monastery in Richmond, BC," organizer Gilles Shearing, said in an Facebook notice. "Lama Pema grew up in Tsum and returned there after the crippling earthquake last year. 90 per cent of the homes in the Tsum Valley were destroyed. Political instability and lack of donated funds reaching those in need has caused great hardship; our friends in Tsum need our help."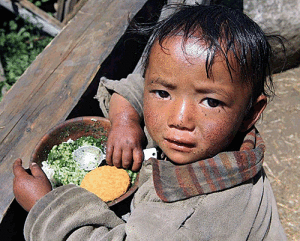 Shearing said there would be a presentation by Jane Marshall, author and co-founder of the Compassion Project, a grassroots (think bake sales) registered society that supports a medical clinic and teacher who travels into the Valley from Pokara (meaning children don't have to make the 5-day journey for education). All money raised this evening will be going to this project.
Next will be a presentation from Charise Folnovic, a Revelstoke resident and photographer who just returned from four months of working as a volunteer on earthquake relief projects in Nepal.
After an intermission, and some silent-auction bidding and post-intermission theatre seat yoga, a 40-minute film on Tsum will take the viewer into this majestic region that was only opened to foreign travellers in 2008.
For more information about this event please go to: http://revelstokeartscouncil.com/fundraiser-for-nepal. Admission is by donation but please be generous.
For more information abut the Tsum Valley please go to: http://www.tsumvalley.org/.
For more information about Jane Marchall and the Compassion Project please go to: http://www.compassionfortsum.ca.
For more information about Charise Folnovic please go here and here.