By David F. Rooney
Meet the Almastou Family: Rakan is a construction worker — when he can find buildings that aren't being blown up by the regime — and his wife Medheya takes care of their five kids… yes 5.
They've been living under canvas at a refugee camp for Syrians in Mafraq, Jordan, for three years and they really, really, really want to get out of there. They're lucky! They're coming here although it may be up to six months before they arrive.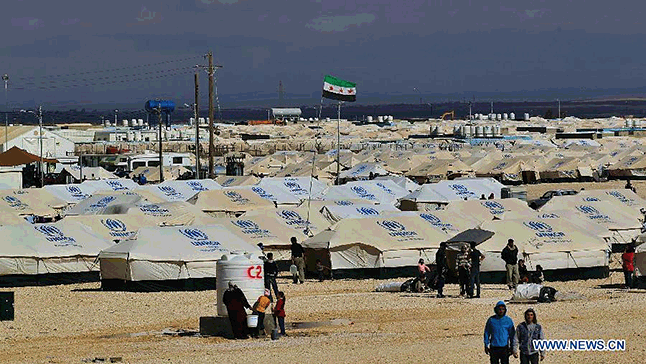 We know a few things about this young family: Rakan is a high school grad who worked in construction for 10 years when there were still buildings being erected in their hometown of Homs. He says he had also worked in a vegetable store. Medheya, did not graduate from high school and has no work history. They have five kids between the ages of one and nine. We do not know their names or their educational capabilities.
"When we decided to go to Jordan my cousin of mine with his bus offered me his help, and that to drive me to the countryside of Homs, we arrived there and from there we went to ele'ellaniyah — small town in Homs — we stayed there for a month," Rakan said in a document received by the Revelstoke For Refugees group. "After this month me and my family took a sheep carrier truck to go to Jordan through Ruwaished (at the) Jordanian border, staying in the back of the truck with many other families, and after 180 km drive, we failed to enter Jordan 2 times, but the third had been met with success."
Imagine doing that with five kids in tow. This is one very determined family. And they're lucky. Revelstoke For Refugees Chairwoman Rana Nelson told The Current they will be coming from the Syrian Refugee Camp in Mafraq, Jordan sometime in the next six months. They were the group's choice to become its first refugee family pick. They might know a few words of English but don't count on anything approaching fluency.
The Committee has raised $50,000 to bring their here and get them settled. They are hoping some generous, big-hearted person will help them out with a house. (If you can help with that please contact Rana by cell at 250-837-1437 or send her an e-mail at rana.onwords@gmail.com.)
Incidentally, the Revelstoke for Refugees Committee is hosting a workshop on Arabic language and culture at the Community Centre this Saturday from 10:30 until 12:30. Please click here to read the poster for this event.