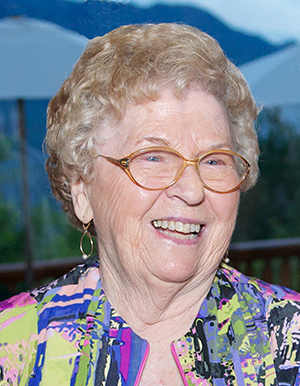 Margaret Ann (Marg) Christy passed away at her residence in Moberly Manor on Saturday, February 6, 2016, at the age of 83 years. A Memorial Service will be held at the Revelstoke United Church on Saturday, February 20, at 1 pm with Mr. Gary Sulz officiating. In lieu of flowers, memorial contributions may be made to the United Church Women, in memory of Marg.
Marg was born in Hartney, Manitoba on July 3, 1932, the daughter of Ethel and Harry Hamelin, and had been a resident of Revelstoke since 1941, coming here as a teenager. She was a member of the UCW, Girl Guides, Revelstoke Arts Society and a long-time member of the Revelstoke Curling Club. Marg was an avid gardener and took such pride in her yard. She welcomed birds of all varieties to her yard, and took the time to ensure they were fully fed! In her spare time, Marg enjoyed bowling. She enjoyed a daily walk and rode her bicycle and swam at Williamsons Lake into her 80's. Marg was well known for her grape jelly, and many homemade contributions to the annual UCW Bazaar. She was also a master pie maker, and no family dinner was complete without one. She would ensure you had a piece of her pie, no matter how full you were!
Marg was predeceased by her husband Howard in 1999 and her sister Joyce McLaren in 1980. She is survived by two children: Gary (Kellie) Christy of Revelstoke and Julie (Roger) Kozek of Revelstoke; five grandchildren: Catherine (Brock) Cody of Kelowna, Andrew (Nadine) Christy and their children Sidda and Adley of Gardom Lake, Jordan Mathieu of Calgary, Meghan Mathieu (Drew Filby) of Calgary and Chloe Mathieu of Calgary; one sister Joan (Glen) McGregor of Revelstoke as well as numerous nieces and nephews.
Messages of sympathy may be sent to Marg's family by viewing her obituary at: www.brandonbowersfuneralhome.com.
Cremation arrangements are in the care of Brandon Bowers Funeral Home, Revelstoke.