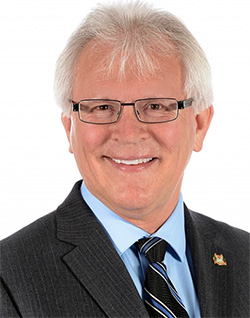 Parliament started up again on January 25, so I have once again been dividing my time between Kootenay – Columbia and Ottawa. One of the concerns that many of you have expressed is the lack of decorum in Parliament, particularly during daily Question Period, which at times can be rude and disrespectful, setting a very poor example of how democracy should work. I share this concern but I am encouraged by the work being done by the new Speaker of the House of Commons to change the atmosphere in Parliament. I encourage him every chance I get to continue this important work.
Here are just a few of many statements made by Speaker Geoff Regan to address Parliamentary decorum:
"Let us listen up so we can get through this. Let us all pay attention and show respect for each other."
"Order please colleagues, we are going to hear things that are provocative. Sometimes it is hard not to react, but I know we can do it. Let us restrain ourselves."
"I know we want to have more and more women parliamentarians in the House of Commons and it is important that we have a workplace that is civilized, so let's ensure it is not like a 1950s old boys club in here."
"After the member asks his question, he might remind the gentleman in front of him that this is not the Muppets."
Needless to say, this is a work in progress.
The spring parliamentary session continues until June 23, with a total of seven weeks back in Kootenay – Columbia before the summer break. Last week I spent four days in Golden, Field and Revelstoke meeting with constituents, park superintendents and elected officials. It was good to hear from them about their concerns and priorities. I heard about the need for funding for infrastructure, affordable housing, high speed Internet, park operations and maintenance, and fixing the Trans-Canada Highway.  I also heard about issues related to immigration, the Temporary Foreign Workers program, and the need to protect the Columbia River wetlands.
I am looking forward to hearing more from my constituents in the coming months, as I travel around our riding. You can always contact my office with any concerns about federal issues by calling 250-417-2250 or by emailing us at wayne.stetski@parl.gc.ca.
We will be officially opening our community offices in the coming weeks. The grand opening for our Cranbrook Office at 111-7th Avenue will be held on February 29. Our Nelson office, located on the 5th floor of Nelson City Hall, will have its grand opening on March 2. Check out our website at www.waynestetski.ndp.ca for details about these and other upcoming events in our community.
A number of constituents have asked what I can do to help them as a Member of Parliament in an opposition party. The answer is quite a lot.
In our community: I have great staff in my offices in Nelson and Ottawa, who are here to help constituents resolve issues with federal programs and services. They have access to information and contacts within the federal government who can provide information on topics ranging from citizenship to Employment Insurance to income taxes. We can also provide you with current information on grant opportunities, tax tips and new pieces of legislation.
You can learn more about the services we provide at the Service Desk section of our website.
I can also write letters of support to ministers regarding constituents' interests and projects. Both in the riding and in Ottawa, I meet with delegations from many stakeholder groups like the BC Dairy Farmers, the BC Building Trades, the Canadian Federation of Students and Health Action groups, who share concerns about issues relevant to our riding.
In the House: In Ottawa, I can raise constituents' concerns directly with government ministers. I recently walked across the floor of the House to discuss an issue on behalf of the Ktunaxa with the Minister of Indigenous and Northern Affairs. I also have the opportunity to hold the government accountable by asking questions in Question Period, speaking in the House, and presenting petitions signed by constituents. In early February, I presented a petition signed by 700 constituents in favour of proportional representation.
As a party, the NDP submits motions for debate in the House on Opposition Days. The first NDP motion was debated two weeks ago. I was very proud of our party for putting forward a motion to set up an all-party committee to determine a way forward to end pay inequity for women in Canada. The motion was supported by all but the Conservative party, which means that the special committee will be formed in the near future.
MPs also have the opportunity to sponsor private member's bills. I will be working with my staff to develop and introduce a number of private member's bills, and would like to hear from you about your priorities. Feel free to email us at wayne.stetski@parl.gc.ca with your ideas on how to build a better Canada.
As the NDP Critic for National Parks, I work to ensure that our parks have the resources they need so that our natural treasures can be enjoyed for generations of Canadians. I know our national parks are important to the people of Kootenay–Columbia, and I am honoured to be able to work on this file.
An MP's life is very busy, both in Ottawa and in the riding! You can receive regular updates about my work by signing up on our website to receive our E-Newsletters. You can also follow me on Facebook and Twitter.
I look forward to speaking with more of you in the coming weeks and months and to sharing with you more stories from this place that is definitely not the Muppet Show!