By David F. Rooney
Dennis Berarducci has done a lot of different things in his time. He has been a truck driver, a vintage car fanatic who enjoys driving his vijntage Studebaker in the Canada Day parade and, of course generations of local people remember him fondly as Revelstoke's favourite — but now-retired — hot dog vendor.
All of that probably qualifies Dennis as a colourful local character. And that might be all she wrote if it was not for the one thread running through his life: Local hockey. is the care and attention he poured into Minor Hockey and the town's Junior B Revelstoke Grizzlies. For the thousands of people who heard his play-by-plays over the loudspeakers at the Forum Dennis will always be Mister Hockey.
Dennis is not a wealthy or boastful man. In fact he's actually a pretty humble guy but he is nonetheless one of the luckiest men in town because he was for years involved in something he treasurers: our local hockey scene.
Speakers ranging from his pal Tony Morabito, daughter Laurie and Grizzlies' coach Ryan Parent, Mayor Mark McKee and former Mayor Dave Raven all has something to say the man of the hour. And, too, Dennis didn't walk away empty handed. He received a plaque of appreciation and the penalty Box was renamed the Berarducci Box. That was fun!
A timekeeper and commentator, this guy from the Big Eddy grew up playing hockey on the iced-over surface of the Columbia River . (Yes, folks it used to freeze every winter before the dams were built and changed our local climate.) Like every red-blooded Canadian kid Dennis probably dreamed of playing with the Montreal Canadians in the NHL but, fortunately, that never opportunity never materialized. Our small mountain community is richer today because Dennis never laced up his skates to play for the Habs.
Over the years since he glided on the clear frozen surface of the Columbia, Dennis has worked hard to ensure that Revelstoke could produce powerful and skilled young players. He also organized and built the History of Hockey displays at the Forum. And, too, he became the Voice of the Forum, and almost singlehandedly organized an effort 14 or 15 years ago put real seats in the Forum. And then, of course, there were his campaigns to win the Canada-wide Kraft Hockeyville Contest, which ultimately saw Revelstoke win $20,000 for Forum upgrades.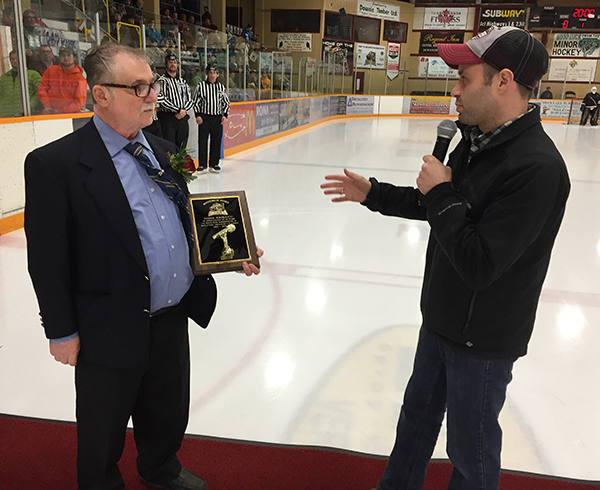 All of that work resulted in something I know Dennis never — not in a million years — would have expected: the applause of a grateful crowd during a ceremony on the icy surface of the rink and speeches thanking him for all he has done to promote hockey in Revelstoke.
I have had the pleasure of knowing Denni and his family for 15 years and as editor the Times Review (2001 – 2007) I interviewed him numerous times. More recently as publisher of The Current I worked with Dennis on Revelstoke's Kraft Hockeyville submission. His selflessness, personal humility, lively sense of humour and hard work impressed me very much and I pleased to see him receive his due. You deserve it, Dennis, you really do.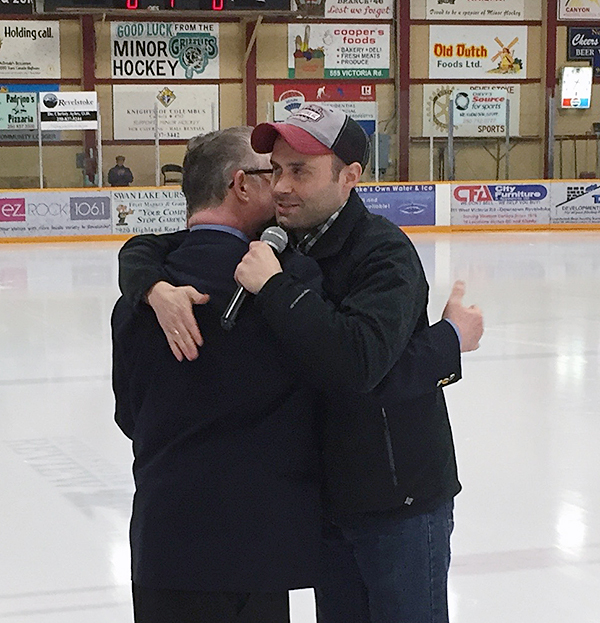 Please activate the YouTube player below to watch the brief, 13-minute ceremony at the Forum on Saturday evening;