Editor's Note:
Many local anglers and boating enthusiasts may be surprised to learn that the Coast Guard is proposing to remove the Arrowhead light buoy. (See the newspaper clipping reproduced below.) Boater and fisherman Peter Bernacki thinks it is a monumentally bad idea and has written to the Coast Guard telling them so.
It you are frequently on the water you, too, may have some concerns about the proposal.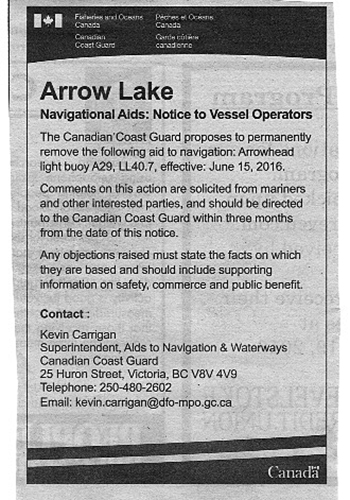 Dear Mr. Carrigan:
As per the Public Notice regarding Arrow Lake – Navigational Aids: Notice to Vessel Operators to permanently remove light buoy A29, LL40.7
This light buoy plays an important role for all small vessels using this waterway. This area sees substantial use, not only for pleasure boating, but as access to recreational properties that do not have road access. It also provides access to the Arrowhead townsite and graveyard.
It is worth noting that:
not all vessels have navigation systems;
it marks a safe passage to Beaton;
it marks the proximity of the river channel; and
it provides a bearing for boaters ion the water during low light conditions or darkness.
I, personally, have relied on this landmark for over 25 years. It is a waypoint in my own navigation system, and about 4 weeks ago, I noticed the buoy was moved closer to the shore and is not in its previous position. Lack of a marker can result in dangerous situations due to extremely low and/or fluctuating water levels.
Currently, south west of the original buoy site, the bottom is actually above water level, tree stumps and other debris are visible.
I believe the buoy is important to the safety of our boating community.
Sincerely,
Peter Bernacki
Revelstoke, BC