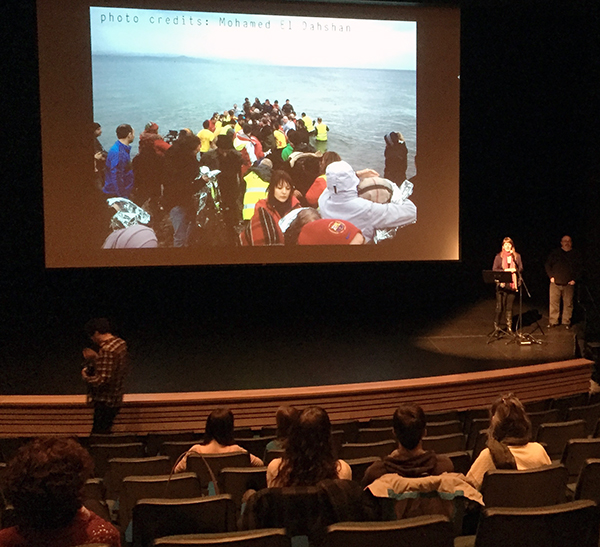 By David F. Rooney
Thursday evening's screening at the Performing Arts Centre of six short videos about the humanitarian disaster in Syria raised $1,791.55 for the Revelstoke For Refugees Committee's effort to bring at least one refugee family to the community.
That brings the total raised to about $23,000. Given the cost of living here, the committee has a target of about $60,000. It anticipates that it can begin the process of selecting a family and bringing it here once it has $30,000 in the bank.
"There were about 70 people there — lower turnout than we wanted, but they will spread the word," Committee Chairwoman Rana Nelson said in an e-mail Friday, January 22. "Lots of good information learned from the panelists, e.g., SD 83 (Salmon Arm) is preparing a welcome package in Arabic for the children, and the first refugee from their seven (possibly nine) families arrived a few days ago."
MC Laura Stovel told the audience that more 7.6 million people have been internally displaced within Syria.
"They are not counted as refugees – and millions more escaped to neighbouring countries and beyond," she said. Turkey and Lebanon are each hosting more than a million refugees. In Lebanon one in five people in that country are Syrian refugees. Jordan, Iraq and Egypt have each accepted hundreds of thousands of Syrians. Europe has just over 100,000.
The videos, all of which are available for viewing online (see the web links at the bottom of this story), are poignant and at times disturbing. The two that had the greatest impact on me were Clouds of Sidra and an untitled interview with 19-year-old Syrian Kurd named Jan. Sidra is a young girl who talks about her family's situation in a Jordanian refugee camp and you can't help feeling for her. Like any young teen she has hopes and dreams for the future but those hopes could falter and fail as the war in her homeland grinds on. But the one that shook me the most was interview with Jan, a young man who dreams of music but realizes that he would have no future in Syria. He is now in Germany with his father.
Following the videos there was a short panel discussion featuring Amanda Hathorn-Geary of Revelstoke, Dr. Brian Ayotte, who is working to bring between seven and nine refugee families to Salmon Arm; and Gudrun Malmqvist of Settlement Services in Salmon Arm.
Amanda Hathorn-Geary was vacationing with her family in Greece in late October when boatloads of refugees began arriving. She and her husband Alex sprang into action, purchasing much-needed items for a local shelter that was housing the refugees and soliciting funds from friends and other supporters.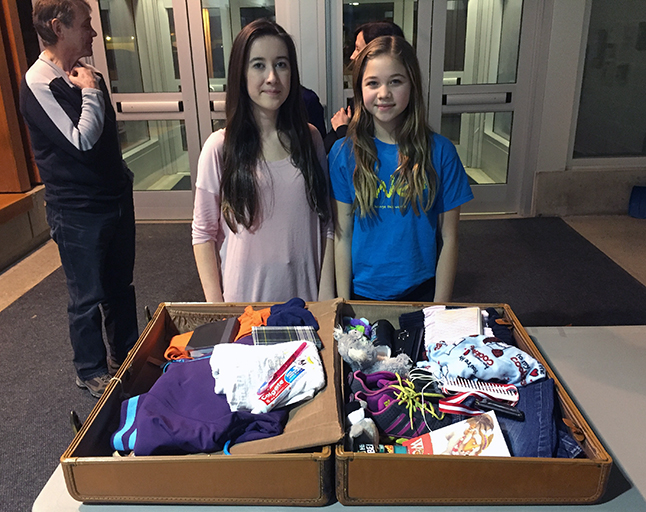 Dr. Ayotte is active with one of the many groups in Salmon Arm that are sponsoring between seven and nine refugee families. He shared his insights into the refugee sponsorship process and experience.
Malmqvist works for Immigrant Services in Salmon Arm. She talked about government services and other support systems that are available or need to be organized by those considering sponsoring refugees.
At the very end of this interesting event Dr. Ayotte shared a very powerful poem (many thanks to Stephanie Melnyk for transcribing it) written by a Kenyan-born Somali poet (please click here to learn more about her):
Home
By Warsan Shire
no one leaves home unless
home is the mouth of a shark
you only run for the border
when you see the whole city running as well.
your neighbours running faster than you
breath bloody in their throats
the boy you went to school with
who kissed you dizzy behind the old tin factory
is holding a gun bigger than his body
you only leave home
when home won't let you stay.
no one leaves home unless home chases you
fire under feet
hot blood in your belly
it's not something you ever thought of doing
until the blade burnt threats into
your neck
and even then you carried the anthem under
your breath
only tearing up your passport in an airport toilet
sobbing as each mouthful of paper
made it clear that you wouldn't be going back.
you have to understand
that no one puts their children in a boat
unless the water is safer than the land
no one burns their palms
under trains
beneath carriages
no one spends days and nights in the stomach of a truck
feeding on newspaper unless the miles travelled
mean something more than a journey.
no one crawls under fences
no one wants to be beaten
pitied
no one chooses refugee camps
or strip searches where your
body is left aching
or prison
because prison is safer than a city of fire
and one prison guard
in the night
is better than a truckload
of men who look like your father
no one could take it
no one could stomach it
no one skin would be tough enough.
the
go home blacks
refugees
dirty immigrants
asylum seekers
sucking our country dry.
niggers with their hands out
they smell strange
savage
messed up their country and now they want
to mess ours up
how do the words
the dirty looks
roll off your backs
maybe because the blow is softer
than a limb torn off
or the words are more tender
than fourteen men between
your legs
or the insults are easier
to swallow
than rubble
than bone
than your child's body
in pieces
I want to go home|
but home is the mouth of a shark
home is the barrel of a gun
and no one would leave home
unless home chased you to the shore
unless home told you
to quicken your legs
leave your clothes behind
crawl through the desert
wade through the oceans
drown
save
be hungry
beg
forget pride
your survival is more important.
no one leaves home until home is a sweaty voice in your ear
saying leave
run away from me now
I don't know what I've become
but I know that anywhere
is safer than here.
If you missed Thursday evening's show here are the URLs for the six videos. If you are moved by them, or the poem above, please consider making a donation to the Revelstoke For Refugees Committee.
If you'd like to know more about the campaign to bring at least one and possibly two refugee families to Revelstoke please contact Rana Nelson at rana.onwords@gmail.com.
There is also a workshop in Salmon Arm this weekend that will provide interested parties with more information about welcoming refugees into our region's communities. Please click here to view the poster.