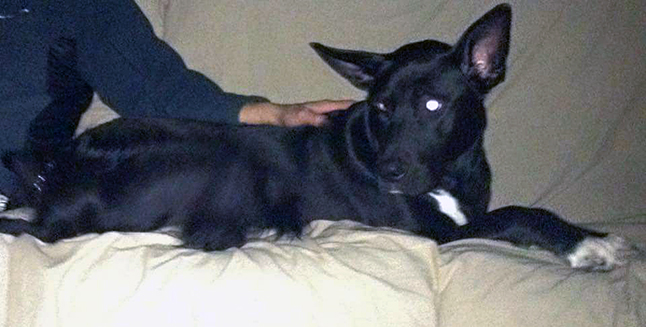 By David F. Rooney
Melissa Yaretz, a young woman in Sicamous, has her fingers crossed in hope that some Good Samaritan has her canine companion.
"Lizzie was lost on Thursday evening," family friend Vikki Myers, told The Current on Sunday evening, January 24. "The young lady's dad took the dogs for a walk on Old Town Road and the dogs ran up a hill. One came back — but not Lizzie. It was dark so he took the one home and went back but couldn't find her. He called me the next day and we found footprints suggesting she came down and someone may have picked her up thinking she was a stray dog."
Vikki said "it's imperative that we find her due to her owners needs." Melissa, you see, has been in a wheelchair all of her life and Lizzie is her constant companion and friend.
Lizzie is a three-and-a-half-year-old black dog with a white blaze on her chest and white socks on all four paws. She is 28 inches tall and the shoulder and 55 inches from her nose to the tip of her tail. She has a microhip but no tattoo or tags.
"She has large ears that stick straight up," Vikki said. "She is very friendly and was wearing a black-and-pink body harness. I think she would response nicely to being called."
There is a $200 reward for Lizzie's return. If you have her or if you know who might please call Vikki Myers at Grama Vikki's Dog Grooming 250-253-3303.