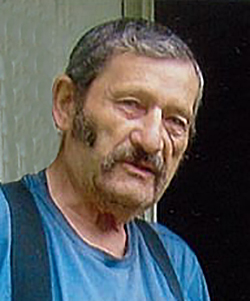 Theodore (Ted) Arp passed away at Queen Victoria Hospital, Revelstoke, on Saturday, January 23, 2016, at the age of 77 years. There will be no formal funeral service by Ted's own request.
Ted was born in Naicam, Saskatchewan, on February 5, 1938, and had been a resident of Revelstoke for over 50 years. He loved to work on vehicles and was a good mechanic. Ted operated a CAT for many years and was well-known for his great abilities on the machine. Ted especially enjoyed time with his family and liked when friends and family came to visit.
Ted was predeceased by his parents, two brothers, six sisters and his son Matthew. He is survived by his wife Ruth of Revelstoke; two children: Homer (Janice) and son Noah of Calgary; Melanie (Steven) Thompson and son Erik of Fort McMurray, Alberta; two brothers: Victor (Petra) Arp of Star City, Saskatchewan; and Henry (Noreen) Arp of Edmonton; sister Viola (Ken) Nevland of Birch Hills, Saskatchewan; numerous nieces and nephews and his dog, Kesler the Beagle.
Messages of sympathy may be sent to Ted's family by viewing his obituary at: www.brandonbowersfuneralhome.com
Cremation arrangements are in the care of Brandon Bowers Funeral Home, Revelstoke.
Miss Me But Let Me Go
When I come to the end of the road
And the sun has set for me
I want no rites in a gloom-filled room.
Why cry for a soul set free?
Miss me a little – but not too long
And not with your head bowed low.
Remember the love that we once shared,
Miss me – but let me go.
For this is a journey that we all must take
And each must go alone.
It's all a part of the Master's plan,
A step on the road to home.
When you are lonely and sick of heart
Go to the friends we know
And bury your sorrows in doing good deeds.
Miss Me – But Let Me Go.