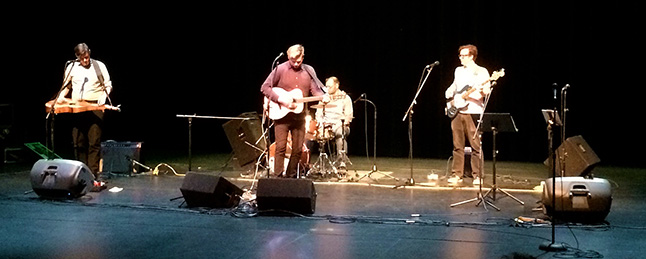 By Victoria Strange
The Nautical Miles put on an amazing show on Saturday night at Revelstoke's Performing Arts Centre.
This adventurous alt-roots band from Vancouver include members, Corbin Murdoch (guitar and vocals), Timothy Tweedale (slide guitar, vocals), Simon Rotheisler (bass, vocals) and Lucas Schuller (drums). Together, they push the boundaries of contemporary folk music.
Front man Murdoch had stand-out vocals throughout the evening, but it was the addition of two brass players, Allison Gorman (trumpet) and Ellen Marple (trombone) that gave the night its soul. When these two artists were introduced to the stage after the first few songs, the music really got interesting. Combined with the dynamic playing of Tweedale on slide guitar, the musical mash-up was fantastic, mixing soulful folk while hinting at a nostalgic war-time sound.
While Murdoch gave the audience a few funny anecdotal stories between songs (the white knuckle driving the city boys experienced driving from Cache Creek to Revelstoke) we also had a glimpse into the talented workings of this band. Murdoch revealed that during the drive, Tweedale created a new arrangement for the brass, composed it on his I-Pad, transferred it to his I-Pod and emailed it to Gorman and Marple. Revelstoke was then the first to hear the impromptu arrangement.
There is no question that Murdoch is an exceptional songwriter and loves to tell stories within his music. He draws inspiration from numerous sources. Potted Flowers is dedicated to a selfless friend who tries hard to leave the world in a better place than she found it. The song, Desous les Pavés, la Plage was inspired by what Murdoch felt to be the most poetic revolutionary statement he had heard. And admittedly, Murdoch also writes songs the day after a friend's wedding, while recovering from the heavy drinking which ensued.
The varied inspiration, along with the repertoire of textured and complex music made for an awesome night. The band was funny and gracious to the audience, and above all, the music was fantastic!