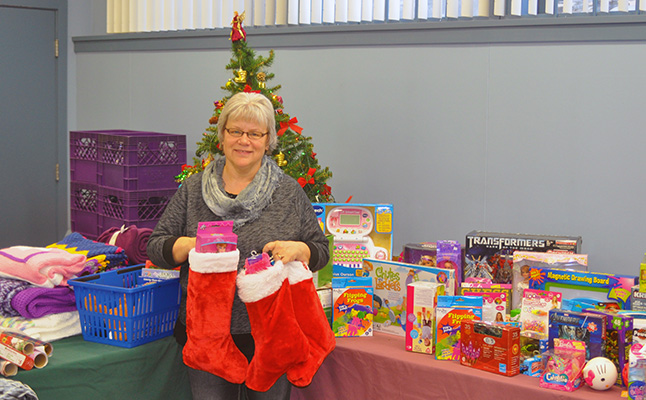 By David F. Rooney
The annual Christmas Hamper Program is now up and running at the Food Bank!
The program is sponsored by Community Connections and aims to help low-income families and seniors enjoy the festive season.
Christmas hampers are filled with food, gifts, practical grooming items and toys and last year they brought smiles to 175 households, representing 290 adults and 89 children.
"Every penny we use to put food into our hampers comes from our community," says Patti Larson, the agency's Community Services manager. "Food Banks do not receive any core government funding."
Take the foods purchased for this Christmas. Three pallets of canned goods from Cooper's were delivered to the Food Bank on Wednesday, December 2. Volunteers unloaded the pallets and neatly stacked the hundreds of cans downstairs. All that non-perishable food, as well as produce, turkeys and 130 canned hams from Red Apple cost the Food Bank $12,500. That's a big wad of cash and all of it comes from the local community.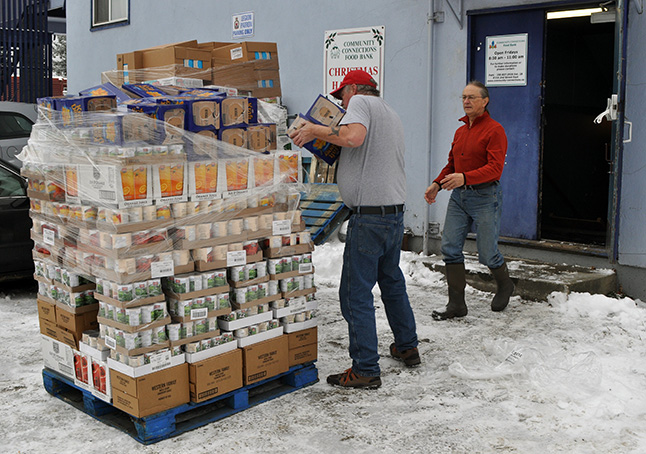 Over the next few weeks more and more food, gifts, blankets, knitted mitts will be making their way to the Food Bank from all of the city's schools and big-hearted individuals like Carol Sakamoto who has organized the production of warm hand-knitted mittens, Carol Doliver who has produced Christmas stockings complete with gifts and Lexie Aast who is holding a Pyjama Drive for kids up to age 19.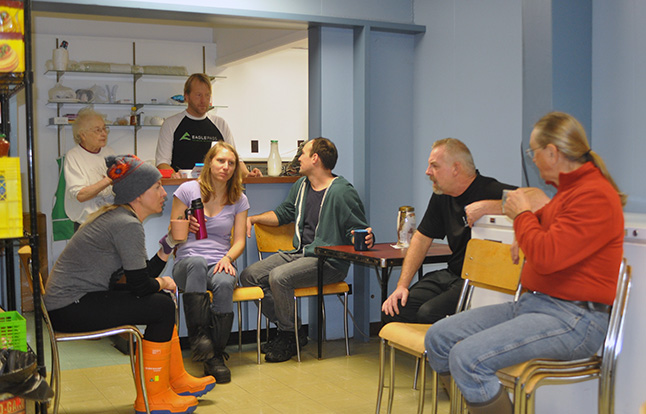 All Revelstokians are encouraged to support the Christmas Hamper Program in a variety of ways. And every year they show they care about their less-fortunate neighbours and friends. This year you can:
Make a charitable financial donation;
Drop off food at the donation box located at Coopers or at the Food Bank itself in the basement of the Royal Canadian Legion at 600 First Street West any time Monday through Saturday 10 am – 3 pm, December 1 – 23;
Add a $2 coupon to your grocery purchases at Southside and Cooper's;
Donate your Save On More points at Cooper's;
Sponsor a family or person in need;
Pick an angel on the Angel Tree at the CIBC and buy a gift for a child; or
Support the Red Apple's toy drive.

You'll note the names of local businesses and groups in the above list. That's no surprise. Local people and local companies always step up to the plate with Rona, Pharmasave, Peoples, all of our local dentists, the Traverse and even RMR making donations or having fundraisers of some kind in the coming days. EZ Rock is even parking a truck at Alpine Village Mall and encouraging listeners to bring donations. Many of those individuals will doubtless be interviewed on-air by Shaun Aquiline.
Please click here to view a poster about this program that includes a list of the program's most-needed items and other donation ideas.