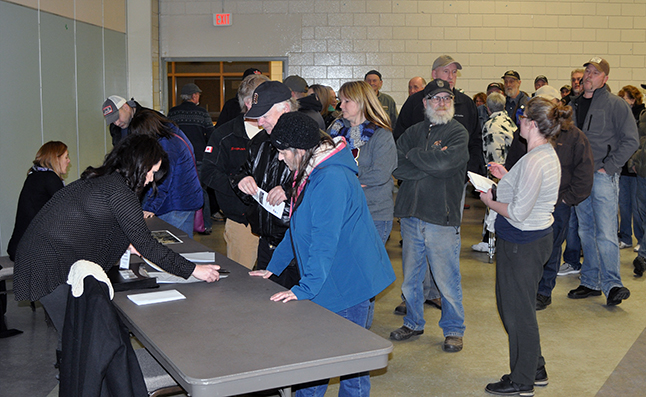 By David F. Rooney
One third of the Big Eddy's 306 property owners attended Monday's public meeting where they not only heard the latest information about the Big Eddy Water Works project but received their personal copies of the petition that will determine whether it goes ahead or fails.
Because they are tax payers, property owners are the only Big Eddy residents who get to vote on whether to accept the project. The federal and provincial governments are paying for about two-thirds of the project's $5.7 million cost. That leaves Revelstoke — meaning the Big Eddy's property tax payers — on the hook for about $1.9 million.
In a detailed presentation at the Community Centre, Engineering and Development Services Director Mike Thomas They have until February 5 to decide whether to sign the petition, thereby approving the project and their eventual billing for their individual portion of the $1.9 million local government cost. If they disagree and do not want to approve the project then they should not sign it and they must contact City Hall and let the local government know that they have no intention of signing. (Please click here to view a copy of the petition, known officially as a Local Service Area Petition.)
At least 50 per cent of the local property owners representing at least 50 per cent of the assessed land value must approve the project in order for it to go ahead. That proportion also applies to land that has multiple owners as in trailer parks and land covered by strata agreements.
The parcel tax is based on what the City is calling "taxable frontage." Thomas said an example of that could be an 80' x 240' lot at the corner of Olhausen and Tum Tum. Its "taxable frontage" is about 23 metres or 75 feet. There is an actual formula for determining the tax. Slide No. 13 of Mike Thomas' presentation shows that to be:
TF = 2F + R + 4F + TP
              3              10
   2
The City estimates the total taxable frontage to be 11,372 metres at an estimated annual cost of $11.50 per metre of taxable frontage.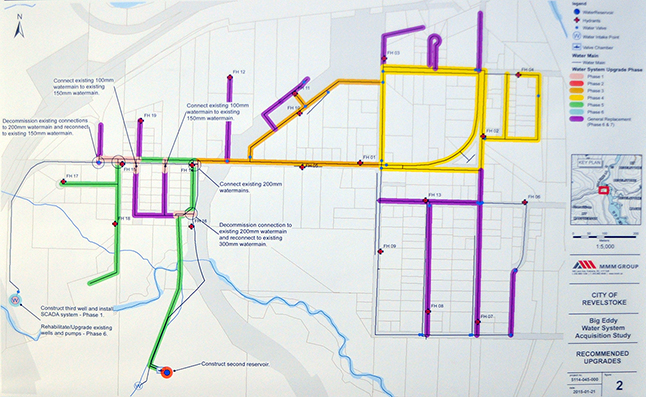 Please click here to see a larger version of this map on Slide No. 11 of Mike Thomas' presentation.
Revelstoke was very, very lucky to be awarded federal and provincial funding for this $5.7 million project. There were 165 applications for projects in other communities and only 55 received approval. But that $3,785,354 in federal and provincial money will be swept off the table and given to another town if Big Eddy property owners do not approve it.
The provincial government has been very concerned about water quality in the wake of Walkerton, Ontario,  (2000) and North Battleford, Saskatchewan, contaminated water crises that left left thousands ill and saw seven died in Walkerton incident. (North Battleford and the Province of Saskatchewan were successfully sued by 700 people who filed a class action suit after becoming ill. The two governments shelled out $3.2 million.)  From 1990 to 2000 (prior to Walkerton) Victoria spent about $86 million. In the post-Walkerton decade (2001 – 2010) it spent $222 million.
Ours is not the only community facing major water issues. IHA Water Protection Officer Rob Fleming told the meeting that Interior Health oversees water quality and protection for 1,929 water systems, up from 1,438 in 2004. 426 of those systems, including the Big Eddy Water Works,  are currently being closely watched. Go to Slide No. 16 for more information.