By Jigme Wangchuk
(Giles Shearing)
 The weekend was beautifully auspicious. When Lama Pema, Tenzin and I drove up to Revelstoke from Vancouver on the Friday, the sun was dominant among irresolute clouds, the mountains dusted white, snow crescendoed from valley bottom to mountain top. It was a perfect welcome for my friends visiting BC's interior for the first time.
I had invited Lama Pema to come to Revelstoke to give introductory teachings on Buddhism and meditation. Dunsge (a family lineage name) Lama (synonymous to high priest) Pema Tsewang was born in Tsum Nepal in 1972. In 1981 Lama Pema entered Thrangu [pronounced trung-goo] Tashi Choling Monastery in Kathmandu to commence formal Buddhist studies and in 1993 he completed a 3-year meditation retreat. Lama Pema is a learned master of Buddhist philosophy.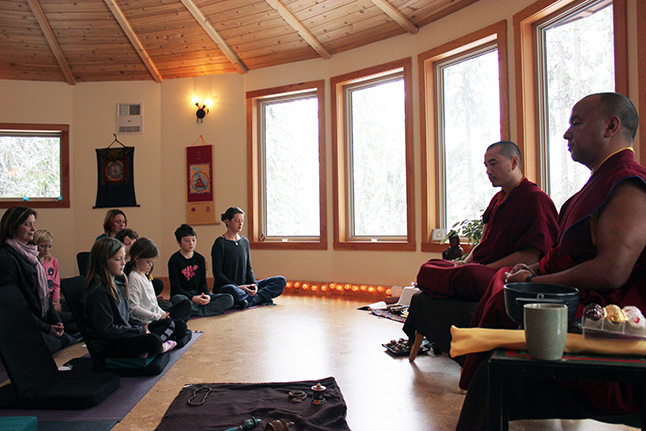 Lama Pema's teacher is Thrangu Rinpoche (Rinpoche means reincarnated Buddhist teacher with a recognized lineage), a man I first met in 2002. During a backpacking adventure, I agreed to carry with me for two weeks a large heavy box of Buddhist texts from Dharamsala India to Thrangu Tashi Choling Monastery in Nepal. For two weeks on rickshaw and train over 1500 km I carried these texts and once arrived, handed the boxes to Thrangu Rinpoche. Fortunate for me, Thrangu Rinpoche would make the trip to Vancouver often, my home at the time, to teach Buddhism to a strong sangha (a word meaning the Buddhist community). I would see Thrangu Rinpoche many times since.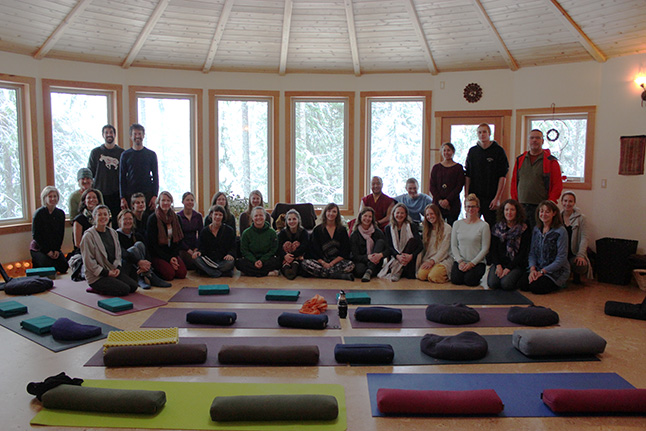 In 2003 Rinpoche asked Lama Pema to move to Vancouver to help establish Canada's first Tibetan Buddhist monastery. In 2010, Thrungu Monastery was completed, situated on No. 5 Road in Richmond, a road famous for religious diversity (the monastery's neighbors include a synagogue, mosque, church, hindu temple, sikh temple and another Buddhist monastery). Lama Pema is the abbot, or head resident lama and oversees all aspects of the monastery including leading many of the weekly meditation sessions for the public.


On November 7, Lama Pema, along with translator and fellow Buddhist Monk Tenzin Yonten gave 2 classes, one for children and one for adults. Both classes were well attended with 15 children and 30 adults. The hour long sessions were held at Monashee Mandala off Mt. Begbie Road, an amazing holistic wellness centre kindly made available to our community by Heather and Dave Sproule. The snow fell the entire day, beautifully brightening our ascetic and making me wonder if our guests would become Revelstuck.


From the children's class, one young attendee remarked how she enjoyed sitting quietly in a room full of others thinking about only one's breath. From the adult's class, Lama Pema taught the story of the Buddha (https://www.youtube.com/watch?v=0OdLIwgY7Eo), how to sit during meditation to reduce distraction and of the 4 reminders:
We have a precious human body, a gift that needs care and a gift that we should not abuse;
Everything in life is impermanent.
The concept of Karama, the law of cause and effect that remains with us throughout our many lifetimes; and
The concept of Samsara, the presence of universal suffering as part of the human condition, which is opposite to the enlightened state where we are free of attachment and suffering.
More information on the 4 reminders can be found here: http://madhyamavani.fwbo.org/8/reminders.html
After 2 nights our guests traveled back to Richmond. The snow had melted, the sun had reappeared and again the beauty of BC was on prominent display. Auspicious? I like to think so.
Soon after Lama Pema's arrival home from Revelstoke I read an update from the Compassion Project, a Nepalese foundation in part established by a Canadian from Edmonton to provide earthquake relief to those in Tsum, Lama Pema's home. The update was photos of the project funded medical clinic providing care to those in the Tsum Valley. Lama Pema visited Nepal right after the recent earthquake to provide support to his home community. The Compassion Project supports a medical centre and a school. To learn more, visit http://www.compassionfortsum.ca.


For more information about Thrangu Monastery in Richmond, visit http://www.thrangumonastery.org
To watch a documentary of Lama Pema's visit to Tsum in 2011 visit https://www.youtube.com/watch?v=YDpOWzTt2v4 (minute 8 starts an introduction to Lama Pema).