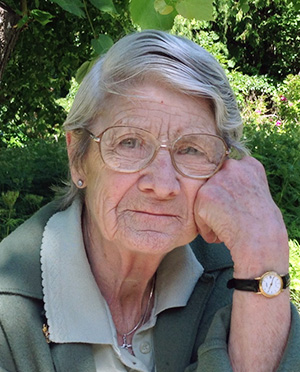 Mary Eleanor Carlson (née Chaychuk) passed away peacefully on Sunday, November 15, 2015, at Queen Victoria Hospital, at the age of 85 years with her son and daughter at her side.
Mary was born in Trail, BC, on November 14, 1930, to William and Anelka (Nellie) Chaychuk. In 1947 she married a handsome soldier who had just returned from the war, John Godfred (Bill) Carlson Jr. They soon moved to Revelstoke, where Bill had grown up and settled in to raise their boy, Billy.
Delivering milk, working at the bus depot and as a bookkeeper at various machine shops gave Mary a varied career and the later arrival of daughter Tobi continued to keep her busy as a mother. Bill and Mary opened their home to teenagers from Mica Creek and a homeless police officer – anyone who needed a place to stay was welcome in their home.
After Bill passed away in 1991 Mary became very involved volunteering at the Thrift Shop and with Hospice doing Therapeutic Touch. She touched many lives with her loving kindness. She was most embarrassed to be chosen Citizen of the Year one year. She also enjoyed travelling, especially to China and Africa, and to England and Peru with Tobi. She also tried skydiving!
Later in life she was (finally!) blessed with the arrival of grandson Tucker, whom she adored and referred to as "the new man in my life." She always said she wanted her epitaph to read: "She loved people, dogs and books… but not always in that order!"
She is survived by son Bill (Janice) of Revelstoke, daughter Tobi (Ian) and grandson, Tucker of Victoria and sister, Helen (Charles) Davie of Victoria.
A casual memorial celebration will be held Friday, November 20, at 2 pm at the Revelstoke Community Centre, a time to share stories and remember.
In lieu of flowers, a donation to the Revelstoke Hospital Auxiliary, PO Box 1781, Revelstoke, BC, V0E 2S0 or to the Revelstoke Humane Society, PO Box 340, Revelstoke, BC, V0E 2S0 in Mary's honour would be gratefully appreciated.
Messages of condolence may be sent to the family by visiting Mary's obituary notice at www.brandonbowersfuneralhome.com.
Arrangements are in the care of Brandon Bowers Funeral Home, Revelstoke, B.C.