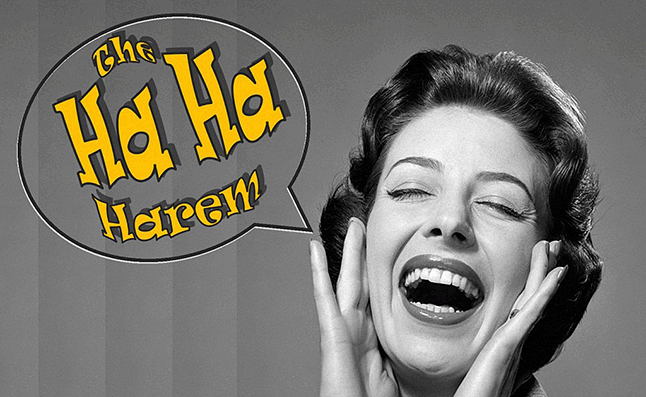 By Victoria Strange
The Revelstoke Performing Arts Centre featured a night of hilarity by three Canadian comics on Thursday. Katie Burrell, Katie-Ellen Humphries, and Erica Sigurdson kept the crowd laughing in their seats during the comedy show Ha Ha Harem.
The evening opened with Katie Burrell, Revelstoke's home grown comic who is now based in Vancouver. Burrell had an instant connection with the crowd, reminiscing about her years in Revelstoke. She admitting to likely owing Coopers hundreds of dollars for continuous sampling of the dried mangos, and compared women dating in Revy to hunting big game. Running onto the stage late after intermission, Burrell poked fun at herself for being out of breath from "running" and forgetting that she had been tasked with the job of pointing out fire exits to the crowd (she reminded us that despite her forgotten MC duties, we had indeed, all survived the first forty minutes without incident). It is clear Burrell is a beloved comic here and was well deserving of the laughs and claps she received during her acts.
Katie-Ellen Humphries's act followed Burrell's first introduction. Her pace was slower than Burrell's, and while funny, the comedian's material was not as easily relatable for the crowd. Jokes about yoga pants, Star Trek weddings, and eating a rotisserie human cooked to death in a sauna, garnered laughs, but the enthusiasm for the local gal overshadowed Humphries.
While Burrell was the city's sweetheart of the night, it was clear that headliner, Erica Sigurdson stood apart. Well known for her appearances on CBC Radio's smash-hit, The Debaters, Sigurdson elicited non-stop laughs from the audience. With a slightly deprecating sense of humour, Sigurdson joked about life after turning 40, squeezing into Spanx, and becoming a "mom" to her "Fridge Kid" (sponsored foster child) after a night of drinking alone. She interacted freely and easily with some audience members, pulling them into her act, gently teasing them just enough for laughs but not so much as to offend. By this, she revealed her ad lib talents and genius as a comic. In short, the crowd loved her. It is not surprising she was named Funniest Female Comedian at the Winnipeg Comedy Festival this year. Sigurdson is absolutely hilarious.
Burrell, Humphries, and Sigurdson waved together on stage at the end of the night. The audience cheered and whistled for these three exceptional comics and the successful performances they gave. Hats off to the Performing Arts Centre for hosting such talent.
Victoria Strange is a new resident of Revelstoke. Raised in Ontario, she is a graduate of the Nova Scotia College of Art and Design in Halifax and has a BEd from Mount Saint Vincent University in Halifax.. Until moving here two months ago Ms. Strange was the co-owner and director of Gallery Page and Strange. She is commenting about local arts and culture for The Current on a regular basis.