By Victoria Strange
It was a fun-filled performance today at Revelstoke's Performing Arts Centre. Spot, based on the beloved books by author, Eric Hill, came alive on stage.
This little musical had everything young children would enjoy: a loveable dog (Spot), a blue hippo, and a clog-dancing farmer, to name a few. Spot is the hero of the story, and with the audience's help, he and his blue hippo friend, Helen, search and find the missing animals from the farm. Combined with a few rewinds in the story (think walking and talking backwards), it made for lots of laughter and cheer from the young crowd. The stage set was simple and bright, and the production played out like a giant, live-action Melissa and Doug wooden puzzle.
But, who better to comment on this production, than the audience members it was truly intended for? I took the opportunity to ask a young sister and brother who attended the afternoon showing what they thought.
"I liked it! I liked the rooster and the cow and the baby cow," said young Nathaniel McLaren. "I liked them because I like the colour of them. And I liked the dog, Spot!"
Nathaniel's sister Phoebe "liked the cow when it had the baby and I liked it when the tractor got a bigger tire. I really liked the show!"
Out of the mouths of babes, it appears this show was a hit.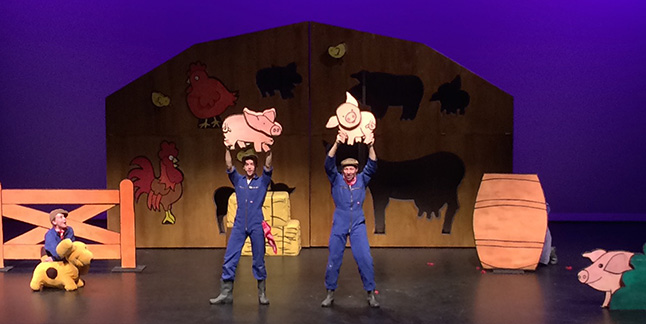 Victoria Strange is a new resident of Revelstoke. Raised in Ontario, she is a graduate of the Nova Scotia College of Art and Design in Halifax and has a BEd from Mount Saint Vincent University in Halifax.. Until moving here two months ago Ms. Strange was the co-owner and director of Gallery Page and Strange. She is commenting about local arts and culture for The Current on a regular basis.