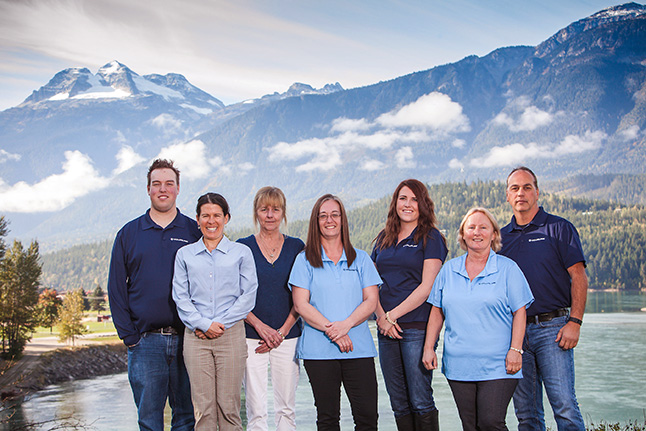 By David F. Rooney
YourLink has introduced a number of changes to better serve the people of Revelstoke, says the cable company's Manager Tracy Buckley.
"The backbone of the changes starts with the Internet speeds," she said in an interview, adding that the company is now offering different Internet service packages at speeds. "The goal is to provide better service to the growing use of data over the Internet. It is expected to increase every year by 150%. Cable companies such as ours have to anticipate that growth and keep planning for increasing speeds."
For a while it looked as though Telus would have a hammer-lock on high-speed Internet, but the Canadian Radio-Telecommunications Commission ruled that it must make its high-speed lines available to competitors. Internet is offered to companies like YourLink at a wholesale price.
YourLink was quick to do just that and is offering different Internet service packages ranging from six to 60 megabytes per second. It is also not charging customers who go over their monthly data usages.
Most Internet service providers ding their customers for exceeding their data usage but YourLink recognizes the value in being a company that doesn't do that.
Buckley said the company has completely redesigned its website and has a "whole new approach to social media" that will permit it to better communicate with the community.
YourLink's local customer service reps will now be using social media tools like Facebook, Instagram and Twitter to let subscribers know when there are outages or when system problems are resolved.
"It also lets us be part of the conversations going on through social media," said YourLink's Shawn Filipchuck.
YourLink is also gathering e-mail addresses from all of its subscribers and while it will use social media to alert customers to outages and other technical issues, it plans to use e-mail only to communicate with customers when there are important issues, such as rate increases, under consideration.
The company is also working harder to remind customers that it is company that has deep local roots. It was originally RCTV until its sale to Saskatchewan-based YourLink. Its staff are local men and women and it carries some locally produced programming, including videos from City Council, School District 19 Board of Trustees meetings and other events.
"We are a local community member," Buckley said. "I think that gives us an advantage in that we are not a remote call centre somewhere," she said. "The people you talk to when you call our office from 8:30 until 4:30 are here in Revestoke."
On the weekends, though, the local office is empty and the company relies on its Saskatchewan call centre to assist subscribers with problems.
Once the company has finished addressing its Internet issues, it has to comply with the CRTC's directives to cable companies "for what they are calling pick-and-pay TV."
"You can't force people to take TV they don't want so the first step towards that change has to be met by March and that is reducing the minimum package for TV. Right now our minimum package for TV is, for analog $31.35 and what we'll do is … reduce that for a new minimum package for $25."
Analog is not being entirely eliminated because some cable subscribers do not want to learn how to use new technology.
"We're also adding more HD channels and in general I think the effectiveness of the team has increased," she said.
For more information about YourLink Revelstoke's products and services please visit their website or give them a call at 250-837-5246.