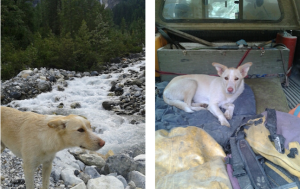 Virginia Thompson and her family are distraught at the disappearance of their pet dog, Katara, and are offering a $1,000 reward to anyone who finds and returns her.
"Katara, my grand dog, was with my son Jamie (Brooks-Hill) in the Bigmouth on Wednesday September 23rd," she told The Current. He was brushing and Katara went into the bush late in the day and did not return. Jamie had to leave but returned and slept up there that night."
She said Jamie worked there the next two days and even left his car there with food underneath it until Saturday when he went up again with friends to search for her.
His brother Mike then went up on Monday and Tuesday. Posters were placed at the entrance to the Bigmouth, at the bridge and at the beginning of the Bigmouth Extension (BMX) and at French Creek. But so far no one has seen Katara
Katara, who also answers to Tar Tar, is a pretty blond dog, weighs about 40 pounds, is very lithe and fast, and accustomed to the bush. She has a tattoo in her ear: 017ADBA.
"She will not starve as she can catch mice," Virginia said. "We have posted a reward of $1,000. for her safe return. We hope people who are working or recreating anywhere near the Bigmouth or Highway 23 North with keep an eye out for her. Our family is very saddened by her disappearance but we still haven't given up hope."
Anyone who knows anything about Katara should contact David Brooks-Hill at 250-200-2075 or Virginia at 250-837-3840 as Jamie is working in Alberta for the next couple of weeks.