By David F. Rooney
Ken Jones, the popular minister at Revelstoke United Church, is leaving town to minister to two different congregations in Penticton.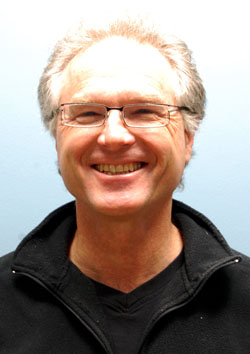 He will take up his new post ministering to the church faithful at Oasis United Church in Penticton and the Blasted Church in Okanagan Fall on November 1.
Ken has been the pastor at Revelstoke United Church for the last nine years. Over that time he became deeply involved in community life through the Royal Canadian Legion, the Bygone Era Entertainment Society, the Community Choir and the Revelstoke Theatre Company, as well as through his ministry to the spiritual needs of Revelstokians young and old..
"I'm going to miss all that," he said over coffee at Sangha Bean Cafe on Tuesday, September 8.
The 59-year-old minister said it was a difficult decision to make but the Revelstoke congregation had shrunk to the point that it could only afford to pay for his services for eight months of the year. He had hoped that the dwindling number of parishioners at both Revelstoke United and at St. Peter's Anglican might convince the two slightly different strains of Christianity to meld together. However, that has not happened and, in fact, might never happen.
The United Church has known since July that Ken was leaving and the local parishioners will have to declare the ministry post vacant in order to find a new minister.
Once in Penticton Ken will have his work cut out for him. The Oasis congregation recently split from Penticton United Church and operates out of a storefront. It is about the same size as Revelstoke United with between 40 and 60 active members. The Blasted Church — yes, that's what it is really called — is, with 12 active congregants, smaller. It is so-named because it was dismantled with the help of four dynamite sticks and then moved to Okanagan Falls in the 1930s. Blasted Church is also the name of a popular vineyard near Penticton.
Ken hopes to be able to make a difference in the lives of United Church members in Penticton just as he helped make a difference here.
Rev. Jones, you will be sorely missed by many Revelstokians.