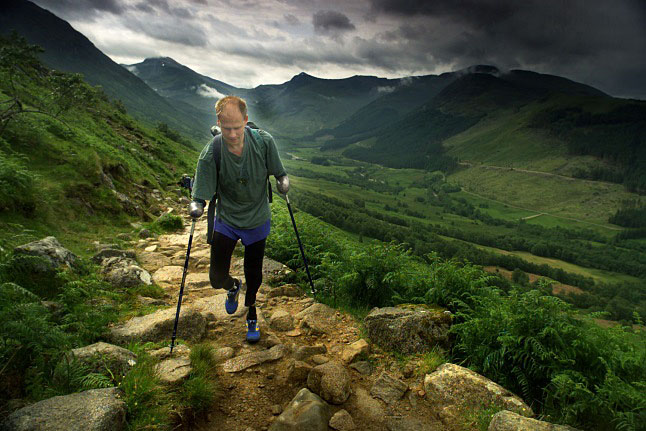 By Laura Stovel
When truly bad things happen in life we are confronted with a powerful choice. Do we succumb to the event and become stuck in bitterness, anger, insecurity and shame or do we take it as a challenge and rise above it?
This was the stark choice faced by Scottish mountaineer Jamie Andrew in January 1999 when he and his friend, Jamie Fisher, were caught in a blizzard in the French Alps for five nights. Fisher perished in the storm and Andrew lost his hands and feet to frostbite.
For many people this would have been the end of the story but 29-year-old Andrew chose to take his situation as a challenge and rise above it.
"I knew from early on that I couldn't allow myself to fall into the trap of feeling sorry for myself," he said in an interview. "When I was pulled off the mountain alive I was the lucky one. My friend and climbing partner, Jamie Fisher, didn't survive. So I owed it to him to make the most of this second chance I'd been given. That's what I resolved I was going to do."
"It was a very stark choice. There was no grey area in my mind. I was going to either give up and fade away or I was going to fully grasp the nettle and take on this challenge I'd been given. Once I'd taken that decision, everything else fell into place."
Surprisingly, Andrew, who will be speaking about his experiences at Axis Mundi on Saturday, September 19 at 1 pm at the C3 Church above the Royal Bank, described his choice with the words "simple" and "easy." "Not having hands and feet is a fairly simple kind of thing," he said. The choice to rise above the situation "was easy because despite being a big decision I was faced with, it was a very clear one and many of the challenges you face in life are never that clear." Once he made the choice, he saw "everything that lay ahead as a challenge, rather than as a trial."
"I've always relished the difficult, the hard, the seemingly impossible. I've always relished the prospect of taking on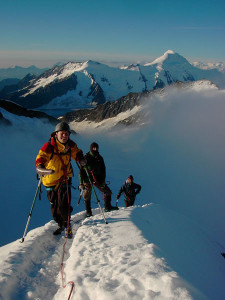 those puzzles and working with them and finding solutions," he said.
Since his accident, and with the help of prosthetics, Andrew has relearned to ski, snowboard, sail, ride bikes, hike and climb. In 2000 he climbed Britain's highest mountain, Ben Nevis, raising £15,000 for charity. In 2001 he returned to the French Alps with one of his doctors and rescuers, climbing L'Aiguille du Midi. The climb was the subject of a French documentary. In 2002 he ran the London Marathon and raised more than £22,000 for the British Red Cross in their support of amputees.
In 2003 he went to Angola as an ambassador for the British Red Cross to witness and raise awareness of the organization's support of amputees (read his blog post here). He also helped found the charity 500 Miles which works with amputees in Zambia and Malawi. He sits on the boards of Edinburgh College and Disability Snowsport UK and Ski to Freedom, which support disabled skiers.
Andrew uses goal setting to achieve his objectives. "What you need to do is break things down into small pieces and believe in yourself and the people around you, making the most of what you have rather than thinking about what you don't have. If you can do that you can do pretty much anything."
Trusting in the people around him was key. "I couldn't have done any of it without the help of other people," he said. "It took me a while to realize how powerful that was. At first I felt very lonely in my hospital bed. But I learned very quickly how many people around me supported me and wanted to help and maybe didn't know how to help. Each of those people had their own special skills and I could use those things. I had to swallow my pride and accept the help people had offered."