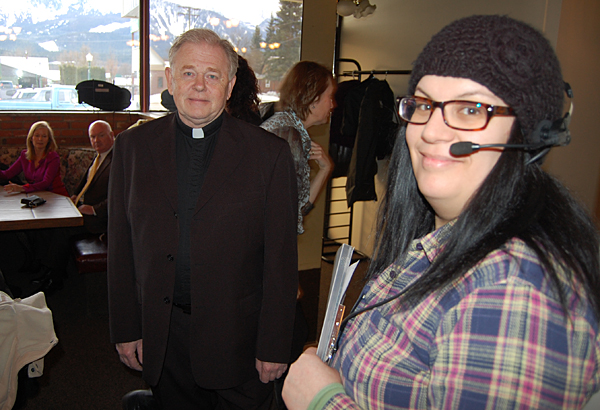 By David F. Rooney
If you were one of the dozens of Revelstokians who scored a role as an extra or as a member of the crew filming last year's Mountain Men film you'll almost certainly be lining up at The Roxy this week to watch the finished product.
There may not be a red carpet or gaggles of nubile starlets but make no mistake! The opening of this film is going to excite a lot of local interest. Mountain Men was filmed at locations as diverse as the Akolkolex Forestry Service Road, the United Church and the First Impressions Hair Salon in April 2014. And more than 40 local people had their own small roles as extras and crew.
Produced by Jason James and directed by Cameron Labine, the film stars Chace Crawford and Tyler Labine as two estranged brothers, Toph and Cooper, as they journey to a remote family cabin in the mountains to evict a squatter. According to Cameron Labine's plot summary, buried resentment and bruised egos soon derail the plan and when the smoke clears they've destroyed their car and burned down the cabin, leaving them stranded in the cold Rocky Mountain winter. With their very survival at stake, they must learn to work together as brothers to get back to civilization."
This isn't the first film shot in Revelstoke. We have starred in a number of documentaries but we have not often formed the backdrop for feature entertainment flicks. There was the 1936 movie, The Rat Trap, and back in 2000, our city masqueraded as an Alaskan town in Michael Bafaro's flick, The Barber, starring Malcolm McDowell.
How do we fare in Mountain Men? Well, it turns out that producer Jason James is Mayor Mark McKee's son and he proved to be very enthusiastic about Revelstoke so we're probably just fine.
However, I suggest you get your tickets as early as you can because I'm betting a lot of people are going to want to see Mountain Men if only because they want to see how their friends and neighbours fared as extras.
Mountain Men opens at the Roxy on Friday, September 11 at 6:30 pm and is being shown at that time every day until September 17. So, be sure you get a bag of buttery popcorn, a soft drink and settle back to enjoy the show.
Please click here to read our original story about being an extra on the set.
Please click here to see a photo of a scene being shot at First Impressions.