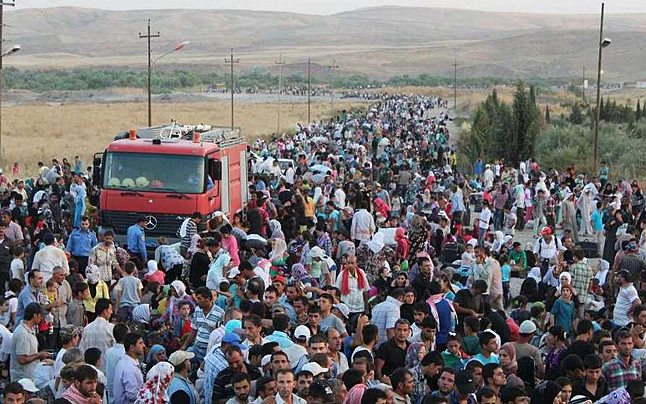 By David F. Rooney
The City of Revelstoke will do what it can to assist any local effort to bring Syrian refugees to our community, says Mayor Mark McKee.
"I know a lot of communities around the province are stepping up and taking on that challenge," he said at the start of Council's Tuesday, September 8, meeting. "I am sure there are agencies in Revelstoke that are looking at ways of helping the Syrian refugees."
McKee said the City is ready to help those who want to sponsor refugees.
Revelstoke has a history of helping where it can. Members of our community have given generously to help after the 2004 tsunami that devastated Thailand, Indonesia and Sri Lanka, and after the 2011 Japanese tsunami.
Social Development Coordinator Jill Zacharias says she hasn't heard of a local sponsorship effort starting up but noted that Revelstoke has many resources that it can utilize to help: the welcometorevelstoke.org website, settlement services through Okanagan College, the Childcare Society and many private individuals who have had extensive experience working abroad.
"We'd certainly try to put our best foot forward," she said.
Premier Christy Clark announced on Tuesday that the government will dedicate $1 million to help settlement agencies, community groups and private sponsors bring Syrian refugees to British Columbia. Specifically, the funds will be used for:
Counselling — trauma counselling through a range of psycho-social supports;
"Groups of Five" private sponsorship supports — A "Group of Five" is made up of private citizens who come together to sponsor a refugee. These funds will assist these private sponsors to help navigate the refugee-sponsorship process;
Community-level supports — help for local governments that will be settling Syrian refugees so there will be a welcoming community for these newcomers;
Foreign Credential Recognition — many Syrians will arrive in Canada with work experience and credentials from their home country. Funds will be available for B.C.-based professional associations to quickly and fairly review and approve their foreign credentials so they can start working in BC; and
Employer supports — funds to help businesses and existing immigrant settlement organizations employ, train and mentor Syrian refugees. These funds will also provide matching funds to employers who train and commit to hire a Syrian refugee.
For any questions about existing supports available for refugees or to learn more about how this fund can be used to help, community groups and private sponsors can call 1-877-952-6914.
Please activate the YouTube player below to watch Mayor McKee's comments on bringing Syrian refugees to Revelstoke. He make his comments at the 57-second mark at the beginning of the video.