The Columbia Shuswap Invasive Species Society is holding an important forum on aquatic invasive species during its September 22 annual general meeting, which is being held in Salmon Arm this year.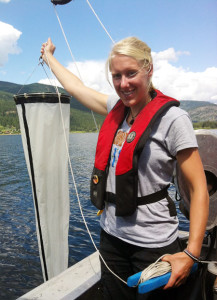 "There are a myriad of invasive species that threaten our precious local watersheds: From Eurasian milfoil in the Shuswap; to Northern Pike in the Columbia River; to Knotweed and Yellow Flag Iris in our waterways and gardens; and, most dangerous of all, invasive Zebra and Quagga Mussels," CSISS Program Director Robyn Hooper said in a statement . "Key note speakers, provincial, and regional representatives will be gathering to discuss these species and more, at an Aquatic Invasive Species Forum on September 22."
The AGM will run from 9 am to 3:30 pm on Monday, September 22, at the CSRD Boardroom on 555 Harbour Front Dr NE in Salmon Arm and is free of charge. To register, please RSVP to info@columbiashuswapinvasives.org by September 15.
The symposium will highlight invasive aquatic-themed presentations and demonstrations. Guest speakers include:
Catherine Tarasoff, Thompson Rivers University: Yellow Flag Iris Research from Southern BC;
Brian Heise, Thompson Rivers University: Northern Pike in the Columbia and Pend d'Oreille Rivers;
Martina Beck, Ministry of Environment: Provincial Updates on Aquatic Invasive Species;
Jennifer Vogel, Central Kootenay Invasive Species Society: Best Management Practices in Knotweed Control;
Hamish Kassa, Columbia Shuswap Regional District: Eurasian Water Milfoil Control in Shuswap Lake; and
Jodi Romyn, Invasive Species Council of BC: Clean, Drain, Dry Program Updates.
This summer, CSISS has been educating boaters and recreationalists about Clean, Drain, Dry methods to prevent the spread of invasives. As well, it has been researching high-priority lakes throughout the Columbia Shuswap Region for aquatic invasive species surveys and monitoring. The goal of this project is to prevent the spread of invasive species, and increase the probability of early detection and rapid response for the potentially new highly invasive species, such as Zebra and Quagga mussels. These animals have not been detected in BC but early detection of their arrival and presence is critical. These fast-breeding creatures can take over a lake in a year.
You can sign up to attend the Aquatic Invasive Symposium by September 15, by e-mailing info@columbiashuswapinvasives.org. For more information, visit the CSISS website at www.columbiashuswapinvasives.org.