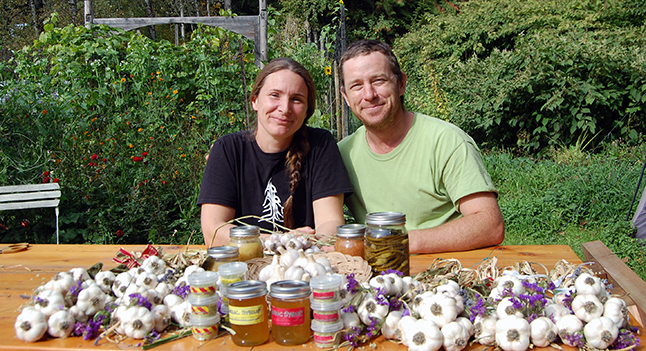 By David F. Rooney
Call it what you will — ajo, ail, knobi, bulblet, arishtha, Allium sativum or even the stinking rose — garlic enlivens your palate and your health. Just ask Sarah Harper and Stuart Smith. They should know since they have organized the Second Annual Revelstoke Garlic Festival at their property on Track Street East this Saturday, September 26.
"You love it or you hate it," Stuart said of the flavourful herb they grow in their verdant backyard garden.
The couple has been busy for weeks preparing for the festival. They have garlic bulbs, garlic syrup, picked garlic, garlic scapes, pickled scapes and even something new: potent mixtures of dried and powdered scapes mixed with some of the ultra-hot peppers Stuart has been nurturing in a greenhouse.
Last year's festival attracted about 200 people and this year's event may pull even more people out to their home.
So far they have a nice mix of vendors, musicians, and more. Ian Richardson of Rocky Ridge Farm near Mara will be there, so will urban farmer Kristina Metzlaff. Melanie Parent will be there, too, with her locally made clothing and Stuart, Bruce Thomas and Simon Hunt will provide excellent live music.
All in all this year's little festival should be a fine community event. It is clear from talking to Stuart and Sarah that they enjoy pulling together a small locally-oriented festival that brings together like-minded people intent on enjoying good food and music.
If you want to get the most out of what is forecast to be a warm and sunny Saturday then be sure to come on down to 226 Track Street East any time between 11 am until 5 pm.
But don't leave it too late! Last year they sold out quickly.