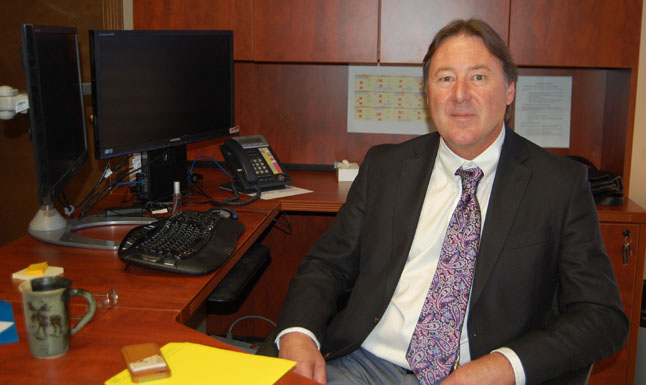 By David F. Rooney
Meet Allan Chabot. This 54-year-old native of Invermere is Revelstoke's new Chief Administrative Officer. But that doesn't mean he's a bland civil servant.
Allan brings to his new job 15 years experience as a working stiff in the private sector and a keen appreciation of community life as a former alderman and mayor (one term in each of those positions). He also has a suite of academic accomplishments.
"In terms of academic achievements I have a diploma in public sector management from UVIC, intermediate and senior certificates in municipal administration from the Ministry of Municipal Affairs, advanced certificates in local government management from the Ministry of Community Services, a sustainable community development certificate from SFU and a certified municipal clerk designation from the International Institute of Municipal Clerks," he said. "I also have training in emergency management, labour relations and municipal and employment law."
Self employed for 15 years he has been at various times as a property manager, a resort real estate agent, a sawmill worker, restaurant employee, gypsum mineworker, and a truck driver.
"What really got me interested in local government were terms as an alderman, as they were known at the time, and then as mayor of Invermere in the mid-1980s," he said in an interview at City Hall on Thursday, August 20.
Chabot, who is single with two adult daughters and two grandsons, just started work on Monday. Therefore, he lacks the necessary information to make credible comments about purely Revelstoke issues. Still, much of his experience — especially as it relates to resort development and relations between a resort and the larger community — are very relevant.
"I think that has given me an appreciation and an ability to understand different perspectives, different view points to value traditional resource industries for the jobs they provide as the backbone of local economies," he said. "Also living an working in a variety of communities, many of which are similar to Revelstoke such as Invermere, Golden and Fernie, where traditional economies are evolving into mountain resort communities.
"I currently see more similarities than differences."
That could well change but Chabot gives off an unmistakable I'm-a-flexible-vibe. He thinks carefully as he answers questions but doesn't shy away from answering them. He is an articulate man who seems to favour plain — but not necessarily blunt — speech. (It's also worth noting that buzz words, acronyms and bureaucratic phrases didn't punctuate his responses to my questions, though I am certain he understand them and can doubtless employ them when need be.)
Although Chabot was understandably reluctant to discuss our local problems and concerns he was happy to talk about some of the thornier problems he handled as CAO in other towns.
In Fernie, for instance, he worked extensively on a proposal to build a golf course that would have added 1,500 dwellings to that community. That project ultimately failed but Chabot remains convinced today that that project would have brought not just new jobs but may have stimulated growth in other economic sectors
"I think generally the more contentious issues (he has encountered in municipal government) always centered around community growth and land development, and I guess trying to negotiate community benefits in exchange for development approval and the opportunity to operate within the community," he said.
That's an excellent answer as Revelstoke's major issues of the day are related to economic growth and development and ensuring that our city is an affordable one to live in. Just think relevant how his knowledge and understanding will be as our city continues to seek appropriate development.
"I struggle sometimes to balance the aspects of jobs created with land development and second-home ownership due to the fact that a lot of that remains vacant for much of the year," he said referring to the eerie atmosphere in those neighbourhoods where so-called 'black windows' are coming to dominate the urban landscape in some mountain resort towns.
Chabot also has a good grasp on the affordable housing issue thanks to his employment in Fernie. And that's a good thing as Revelstoke is working to build its stock of affordable rental housing.
How that will shake out remains to be seen but it's nice to know that Revelstoke's top civil servant understands the issue.
Most people in town have probably already heard that Chabot's last position as CAO was in Merritt and that he did not, in fact, even work there for a full year. So what happened? Why leave Merritt?
The fact of the matter is that Mayor McKee and Council reached out to him and hired him away. Chabot had applied for the CAO position when a previous City Council was trying to fill that spot and though he didn't win that particular job competition he remained interested in what was happening here. It's not surprising, then, that he accepted the posting this time when it was offered to him.
Many people in Merritt were surprised and expressed their disappointment to him, he said.
Merritt's loss is our gain, as it appears that Allan Chabot brings the right mix of life experiences to the table in Revelstoke.
However, you can make up your own mind by attending the City's Meet-and-Greet for Allan Chabot on Friday, August 21, at City Hall's second floor from noon until 2 pm.