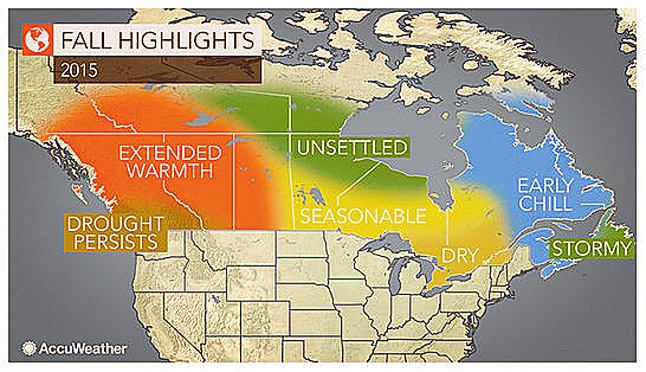 Warm and generally dry weather will continue to dominate much of western Canada into the fall, bringing little in the way of relief to areas dealing with drought and high wildfire danger.
This is the conclusion of a seasonal weather analysis by AccuWeather.com.
The weather service also said that farther east, rainfall will be below normal from southern Ontario to Quebec this fall with an abundance of warm afternoons well into October, followed by increasingly chilly nights.
Most of the Arctic fronts will be directed into northern Quebec, Labrador and the Maritimes this fall, resulting in some early periods of chilly weather. This pattern will also help reduce the threat of a landfalling tropical storm or hurricane into Nova Scotia.
Newfoundland will continue to have cooler and wetter conditions into the fall with several storms intensifying just offshore.
Little relief in store for the western drought
Warm and unusually dry conditions have persisted during the 2015 growing season from southwestern British Columbia to Alberta due in part to abnormally warm water over the northeastern Pacific and a stubborn high pressure system anchored along the west coast.
This type of pattern is expected to be the dominant pattern into the fall, which will lead to a continuation of warmer and drier conditions as Pacific storms and Arctic fronts are detoured away from the region. Expect a higher-than-usual number of days in excess of 30° Celsius (86° F) away from the coast into early October.
The 2015-2016 ski and snowboard season will likely get off to a late start across the higher elevations of western Canada due to a lack of late-autumn snow and sustained cold.
Typical fall weather to span from the eastern Prairies to northern Ontario
The fall of 2015 will be quite changeable from Manitoba to northern Ontario with fast-moving storm systems and fronts that bring brief periods of rainfall followed by crisp, sun-filled afternoons.
There is an increased risk of an earlier-than-usual frost/freeze in this region, especially in Ontario.
Drier pattern forecast from southern Ontario to Quebec
The fall will be pleasant overall across this region with an abundance of sunny days. Rainfall will be slightly less than average.
Current signs point toward a favorable season for viewing the fall foliage later in September and into October.
Chill to be directed toward Atlantic Canada
Most of the chilly air masses that build up across the Arctic region this fall will be directed toward the eastern quarter of the country.
Areas from eastern Quebec through Labrador and down into the Maritimes will have longer periods of cool weather with brief periods of warmer weather mixed in.
Thanks in part to the strengthening El Nino, the threat for a landfalling tropical storm or hurricane will be lower than usual through the fall. However, ocean storms forming over the northwest Atlantic will harass parts of Newfoundland with rain and wind, especially during October and November.
El Niño's impacts to arrive in late autumn
El Niño continues to intensify over the equatorial Pacific, and we expect this current episode to be one of the strongest El Niños on record by the upcoming winter.
The main impacts for Canada from this El Niño should be felt from late fall through winter across Canada.
Strong El Niños typically produce unusually mild winters across western Canada. Farther east, the impacts are less certain but tend to favor reduced snowfall around the Great Lakes region. Current indications are that this upcoming winter will not be nearly as cold as last winter across eastern Canada.