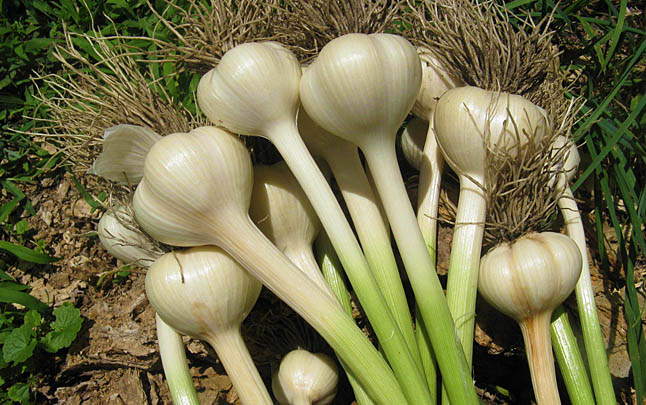 Garlic lovers have a few things to look forward to over the coming weeks with garlic festivals in Grindrod and New Denver, and — capping off the season — Revelstoke.
First up is the Sixth Annual Grindrod Garlic Festival on Sunday, August 16, with live music, art, crafts and local produce by the river.
A statement from the organizing committee said fans of the mighty bulbs can stock up this winter's supply of their favorite garlic varieties. Or sign up for the popular (and free) garlic braiding and growing workshops, or learn about raising small flock chickens. You can even create an ode to garlic poem to be read aloud at the festival. Combine the fresh ingredients provided in the garlic cooking contest into a delectable dish, or dare to enter the garlic eating contest.
A community section features activities for children such as felting, a StoryWalk® about a bear and bee, bubbles and chalk drawing.
New this year is a People's Choice art competition coordinated by the CourtYard Gallery in Enderby. Artists are encouraged to submit an original garlic-themed drawing or painting by 9 am at the information booth on festival day, August 16. The works of art will be displayed at the Festival for voting, and the winning piece will be used for next year's Garlic Festival poster.
From Most Unusual Shape to Most Varieties Grown, there is a garlic class to fit everyone. Festival organizers are looking for submissions for the following contests: Garlic, Vegetable, Fruit and Herb Show; and Photography: Anything Garlic, Life on the Farm or Pets and People.
Bring your contest entries to the information booth before 11 am on festival day, August 16, then enjoy the garlic festival and workshops. A list of the competition classes and other details are available at the Grindrod Garlic Festival Facebook page https://www.facebook.com/pages/Grindrod-Garlic-Festival/382280175121244
This year's Grindrod Garlic Festival happens on Sunday, August 16, from 9-4 at the Grindrod Park, Highway 97A North of Enderby. Admission is $3 per person.
The 23rd Annual Hills Garlic Festival will be held at Centennial Park in New Denver on Sunday, September 13, from 10 am until 5 pm.
With the theme Homemade – Homegrown – Organic this year's event will feature 160 vendors selling everything from organic garlic, garlic wreaths, products and snacks to crafts, arts, organic produce, soaps, lotions and herbal remedies. There will also be live entertainment and children's activities all day and, yes, there will be contests including:
Largest Head of Garlic (soft-neck and stiff-neck);
Heaviest Clove of Garlic;
Best Garlic Poem; and
Best Garlic Braid.
Admission is $4 or $3 if your purchase them in advance at Friday Market in New Denver; children under 12 are free.
The garlic festive season in our region will be capped with Revelstoke's third annual Garlic Festival, which is to be held on Saturday, September 26,  from 11 am until 5 pm. Organizers Sarah Harper and Stu Smith are, for now, in the High Arctic but the festival remains very much on their minds.
"Stu and I have settled on Saturday, September 26 11 am – 5 pm. We still have yet to hear from a few vendors… I will send you the little poster I've done up."