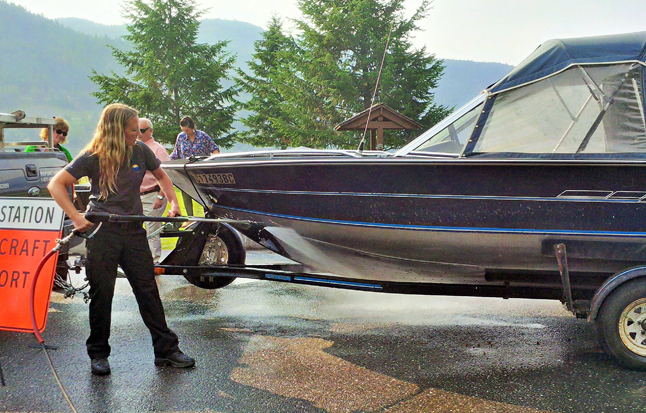 Columbia Basin Trust is pouring $360,000 into the provincial effort to double the number of mobile decontamination units aimed at stopping invasive mussels from entering British Columbia waterways.
This new partnership in the Ministry of Environment-led Invasive Mussel Defence Program also includes support from Columbia Power Corporation, FortisBC and the four local invasive species councils operating in the region — the East Kootenay Invasive Plant Council, Central Kootenay Invasive Species Society, Columbia Shuswap Invasive Species Society and the Northwest Invasive Plant Council.
A statement from the CBT said the new resources will help pay for three new mobile inspection-and-decontamination stations and their crews to ensure boats are free of mussels. The teams will be based in Cranbrook, Valemount and Nelson, and will target major entry points from Alberta and the US. The new teams join three other already-operational crews dedicated to protecting BC's lakes and rivers against the threat of quagga and zebra mussels.
The decontamination units allow auxiliary conservation officers, who are trained to identify mussel-infested boats, to decontaminate boats and trailers entering B.C. The teams also respond to boats identified as concerns by the Canada Border Services Agency, and partner agencies in Alberta and the US. The mobile units move between border locations, focusing on high-traffic routes and have the ability to quickly respond to any reports of potential threats called in through the provincial Report All Poachers and Polluters (RAPP) line, the statement said.
"Aquatic invasive species, such as zebra and quagga mussels, pose a significant threat to Canada's freshwater ecosystems and critical infrastructure such as hydroelectric and drinking water facilities," the statement said. "No zebra or quagga mussels have ever been found in BC waterways, and the province is hard at work ensuring it stays that way."
As experiences in Ontario, Manitoba and parts of the United States show, these invasive species, once established, are impossible to eradicate. According to the Center for Invasive Species Research at the University of California, Riverside, the cost of management of zebra mussels in the Great Lakes alone exceeds $500 million a year
Please click here for information about the impact of zebra and quagga mussels in eastern Canada.