Contributor's Note:
This summer I have gone off the electrical grid and am living almost fossil fuel free (I have allowed myself a fossil fuel budget of two car rides return a month). My electricity comes from the sun, I cook with the sun and I walk or bicycle to get around.
This series of articles discusses some of my adventures. You can also follow my blog at http://myoffthegridsummer.blogspot.ca/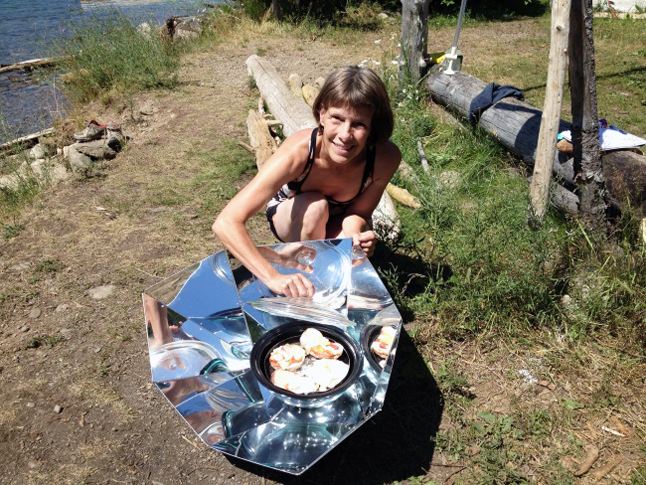 By Laura Stovel
In the hot summer months it's nice to take the cooking outside to avoid heating up an already hot house or apartment. The barbeque is one option but there is another wonderful source of energy right over our heads: the sun.
When I started researching solar cooking I saw that there were several models to choose from and several books and websites to guide me.
During past travels in India and Nepal I had seen enormous parabolic mirrors that concentrated heat at one focal point and could light a newspaper within a second. The mirror had a mechanical tracker that followed the sun. This was an interesting but cumbersome way of cooking and I did not see them in widespread use during my travels.
Choosing a solar cooker
Luckily there are simpler options available, including cookers that are very inexpensive to make, requiring only two cardboard boxes, glue, tinfoil and often a tempered glass cover.
I have two solar cookers: a wooden one that I built with the help of Ken Talbot at the Revelstoke Visual Arts Centre's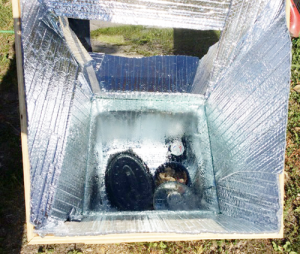 woodworking studio and one that I ordered online that was made in Mexico, and that has become my main cooker.
The wooden cooker has an 18-inch box and wings that direct the sunlight and heat into the oven. Most of the reflector material is aluminum foil bubble insulation that can be bought for about $2 a foot at any hardware store. I also had a piece of broken mirror that I added to it for extra shine. The oven box is covered with tempered glass that traps the heat and the condensation in. At mid-day, under full sun, my oven regularly reaches a temperature of 250° F.
That cooker is cumbersome and difficult to move so it has become my second cooker, used when I want to make two dishes in the afternoon or evening.
The portable cooker that I bought is wonderful to use. The reflector is made of metal that is mirror-like on the side that faces the sun. It came with a transparent, tempered glass bowl and lid and a thin, black metal bowl that sits snugly inside the glass bowl. The reflector folds up neatly when not in use.
Cooking with the sun
When the sun shines steadily, as it has for the last month,, solar cooking can be easy and satisfying.
Solar cookers and solar ovens are much like slow-cookers. They are great for one-pot meals. You chop up the ingredients, add seasoning, mix well and then let the cooker do the work. One big difference is that solar cooking requires much less liquid than slow cooking or cooking on a stove. The lid traps the condensation in. Also, you don't need to stir often – maybe once every few hours. Food doesn't burn in a solar cooker and lifting the lid to stir releases the heat, slowing the process down.
Solar cookers typically require a thin black or dark metal pot, similar to a canning pot. This absorbs heat quickly and easily. Once your food is in the pot and you have covered it with the tempered glass lid, you put it in the cooker and turn the cooker to face the sun. The cooker will do its work and all you need to do is turn it occasionally (I suggest hourly) to follow the direction of the sun.
I have noticed that the time of day makes a big difference for the speed of cooking. At mid-day, a stew can come to a boil within an hour and cheese melts, which I often enjoy for lunch, take about 20 minutes. A breakfast of French toast or cooked oatmeal, however, will not likely be cooked before 10 am, even if it is started around 7:30 in early July, when the days are longest. Those treats are best reserved for a weekend brunch or late breakfast – and they are well worth it: I have noticed that my oatmeal with raisins is much creamier than my usual stove-top version when cooked this way.


Stews with meat or hard vegetables, like cauliflower, broccoli or carrots, can take between four and seven hours to cook, depending on the size of the pieces being cooked. Chicken that has been chopped up, for example, will take much less time than large chicken pieces. It is wise to start them around mid-day or earlier to give them plenty of time to cook. They can always be reheated toward dinner time.
Solar cooking is very rewarding but it does require fairly continuous sunlight. If there is a chance of cloud cover, it is best to start early and have a Plan B in place. There are lots of good, off-the-grid options like cold soups, salads, massaged kale and cold cuts or smoked or preserved fish.
If you are interested in learning more about solar cooking and other off-the-grid appliances, the North Columbia Environmental Society's Sustainable Living Committee is organizing a continuous demonstration (rain or shine) outside Big Mountain Kitchen at 215 Mackenzie Avenue on Saturday, July 18 from 9 am until noon.
Please click here to read the first article in this series by Laura Stovel.