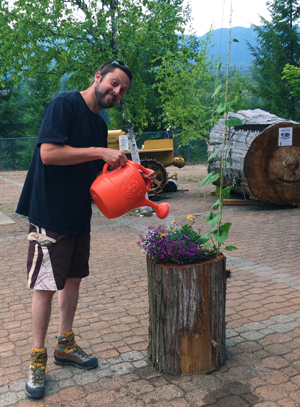 The BC Interior Forestry Museum and Forest Discovery Centre is hosting a Volunteer Open House on Wednesday, July 22, to give interested people a chance to explore some of the projects and activities available, complete with refreshments and transportation from town if required.
"We are enthusiastically inviting help of all kinds from volunteers — everything from help in the gift shop to carpentry, painting, grounds maintenance, visitor hosting and exhibit cataloguing," Museum President Brian Sumner said in a statement this weekend.
The visitor season is in full swing at the Museum and Discovery Centre, located right next to the Revelstoke Dam off Highway 23N.
"In fact, attendance is up at least 25% and staff are fully occupied with the gift shop, exhibit upgrades, construction projects and a full slate of events, including forestry-related talks, workshops and demos every Saturday at 2 pm, and campfires every Friday from 6-8 pm when the fire ban is lifted," Sumner said. "The highlight event of the season will begin at 5 pm on Friday, September 11, as part of Heritage Weekend with a children's' Loggers Olympics, a horse-logging demonstration, our year-end BBQ, live music, and a preview of the logger sports."
For more information about the Museum and Discovery Centre and the events it is offering please visit its website at bcforestrymuseum.ca for details. If you'd like to attend the July 22 Open House and need a ride please call 250-814-7533 or catch the museum's driver in the lobby of the Rec Centre at 11 am or 1 pm.