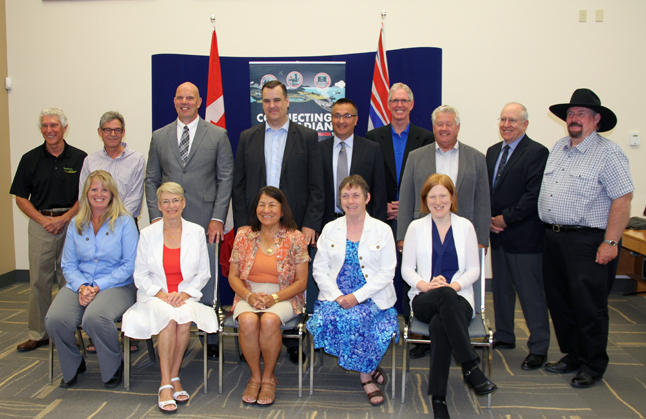 Residents of nearby Trout Lake and other rural communities in the Columbia Basin are in line for high-speed Internet thanks to $3.34 million in funding from the federal government.
A statement from the Columbia Basin Trust said the funding, which effects 11,000 households, was announced at an event involving the CBT, federal MP David Wilks and federal Industry Minister James Moore on Thursday, July 9.
"Columbia Basin Trust is committed to bringing better broadband to the Columbia Basin–Boundary region, and this funding is an important step forward in giving over 11,000 households the ability to participate fully in the digital world," CBT President and CEO Neil Muth said in a statement. "Thank you to the minister, the government of Canada, our local government partners and Internet service providers for their efforts in bringing affordable high-speed Internet services to our communities."
Trout Lake, which is about 60 kilometres south of here, is the closest community to Revelstoke receive a piece of this particular pie.
Under the Connecting Canadians program, the CBT will receive $3.34 million to connect households in the Kootenay region, including in Ainsworth Hot Springs, Baynes Lake, Beaver Valley, Blewett, Boswell, Boundary (Bridesville to Christina Lake), Bountiful, Brisco, Canal Flats, Canyon, Crawford Bay, Deer Park, Edgewater, Edgewood, Elk Valley, Elko, Fairmont Hot Springs, Ferguson,Field, Fruitvale, Genelle, Glade, Grasmere, Gray Creek, Harrogate, Harrop, Jaffray, Kingsgate, Kitchener, Lister, Moyie Lake, Northern Kootenay Lake communities, Parson, Renata, Riondel, Ross Spur, rural Rossland, Salmo, Sirdar, Slocan Valley, Spillimacheen, South Slocan,Tarrys, Thrums, Wasa, West Creston, Whatshan Lake and surrounding area, Wilmer, Windermere, Wynndel, Yahk and Ymir.
The Trust's subsidiary, Columbia Basin Broadband Corporation, will be coordinating this project and working with the following 12 Internet service providers:
China Creek Internet Services Ltd.;
Columbia Wireless Inc.;
East Shore Internet Society;
Edgewood Community Internet Society doing business as (dba): Inonoaklin Edgewood Broadband;
FlexiNET Broadband Inc.;
Kaslo InfoNet Society;
Peak Broadband Solutions;
0764016 B.C. Ltd dba: SWIFT Internet;
Tough Country Communication Ltd.;
Trout Lake BC Internet Society;
Warner E. Einer dba: WINK Wireless; and
Yahk Area Communications Society.