By David F. Rooney
Highway Minister Todd Stone confirmed Monday that improvements to the Trans-Canada Highway are coming up, and not only that but eventual changes to its intersection with Victoria Road and — longer term — replacement of the main highway bridge over the Columbia River.
"No question but we'll be looking at that (the TCH junction with Victoria Road) sooner rather than later," he said after a luncheon speech to the Chamber of Commerce.
Stone also said that the bridge over the Columbia River could receive some upgrades.
"This could be one of the bridges we're contemplating for upgrades over the next two years," he said.
Replacing the two-lane structure is, however, a longer-term project and is unlikely to happen anytime in the near future. Stone also said he is aware of local concerns with the state of the 94-year-old Big Eddy Bridge. The structure is inspected annually and is repaired as needed, however, a Ministry of Highways official told City Council in 2011 that it was unlikely to last 10 years past that point.
During lunch with the friendly Chamber of Commerce crowd Stone reiterated his latest actions to improve safety, access and mobility on the TCH.
"Improving highway reliability and mobility is a major component of our 10-year transportation plan, BC on the Move," Stone said. "In addition to continued four-laning of the Trans-Canada, we also want to shorten the time that people are stuck in their vehicles during a road closure and open up the Trans-Canada as quickly as possible, to get people and goods moving again. That's why we are bringing in this new technology for avalanche mitigation work, which will significantly reduce road closures."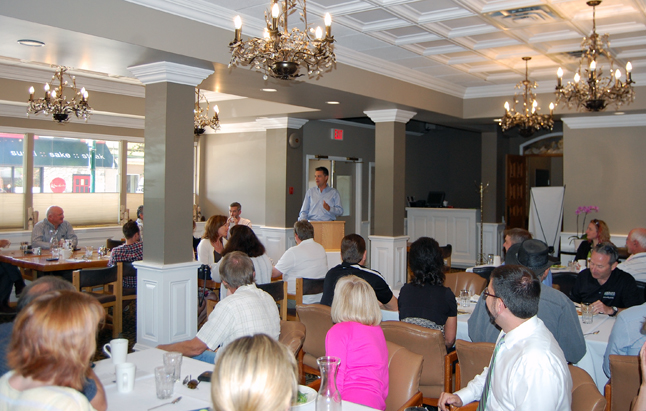 These have for decades been high-priority issues for Revelstokians, chief among them Mayor Mark McKee who has never passed up an opportunity to press home our community's concerns with provincial and federal political leaders.
"This government gets it," McKee said later.
During his speech to the Chamber and, earlier to a small crowd at Woodenhead Park Stone said his ministry's latest actions will shorten the duration of highway closures when there is risk of an avalanche at Three Valley Gap near Revelstoke. Right now, using the current technology of dropping explosives from a helicopter, avalanche control is effective, but it can only be done in daylight and when weather allows. Many times this leads to closures that can extend to more than 16 hours.
Stone said his ministry is issuing a Request for Expression of Interest to bring in a new avalanche-mitigation system at Three Valley Gap. Remote-control explosive devices will be constructed to remotely initiate avalanches to address unstable snowpacks. The devices will not be dependent on good weather conditions or daylight to operate. The new system, he said, will significantly reduce the duration of highway closures for avalanche control. It is anticipated that the new devices will be installed in 2016.
As well, a new traffic light signal-timing system called Automax is being installed at three signalized intersections along the TCH in Revelstoke and two in Golden. If an intersection gets a line-up of vehicles, Automax will detect it, using loops installed in the pavement. Traffic-signal timing will be adjusted automatically to relieve intersection congestion.
In addition, the ministry will be installing 20 new digital variable-speed-limit signs along Highway 1 between Revelstoke and the Perry River Bridge near Malakwa. The electronic signs will be linked to sensors in the road surface, and adjusted based on road conditions, to notify drivers of a safe speed to travel in adverse weather conditions. The signs can also be adjusted during traffic congestion and incident response. The digital signs will be installed this fall, and there will be a testing period before they become fully operational.
Stone said these are part of his ministry's $25-million-per-year Roadside Safety program, as announced in the government's BC on the Move transportation strategy for the next 10 years. The government says it will invest $2.5 billion to improve the province's transportation network.