by Leslie Savage
Buy a nice plump 6 pound chicken. Roast it. Dice it. Boil the bones for soup. Here's how two people can eat one chicken for five dinners. Okay, if you're cooking for more than two, double or triple the recipes.
The point is, a chicken goes a long way — and costs just a little more than four skinless, boneless breasts.
Don't get me wrong: chicken kiev is great, so are sautéed breasts with some lemon, or chicken legs in a stir fry, or one-pan coque au vin., or garlic honey wings. But buying a whole chicken is somehow satisfying — and using the whole chick even more so. And it makes such great stock — the basis of every good soup. These are simple recipes for summer days.
Purists would make a  paté to spread on crackers out of the liver and gizzards, but commercial vendors no longer include the liver, and theses are almost impossible to buy in a package. However, if you buy a free-range chicken from Crossroad Farm in Armstrong (available at Saturday's Community Market in Revelstoke) you'll find the heart, liver and neck in the cavity inside the chicken. Fry up the liver with a little butter and lemon juice plus a bit of chopped onion and salt and pepper, for a treat on crackers before dins.
Roast chicken with pan veggies
This chicken is oven-baked. If you're a pro at the BBQ, grill the bird on a spit in the outdoors–and write to me with instructions–I'd love to know how to do this without charring the outer layer while still cooking the inside of the chicken.
Equipment
instant read thermometer
roasting pan with grill or rack
large fork or tongs
cotton string for trussing the chick (DO NOT use nylon, it will melt)
Ingredients
One 6-pound chicken
¼ cup butter
salt and pepper
1 lemon cut in half
2 potatoes, 1 yam, 1 onion, 4 pieces squash, all peeled and quartered


Pre-heat oven to 375°F.
Clean it under the tap. Remove goodies the producer has included in the cavity.
Salt the insides.
In a roasting pan, preferably with a rack, put the chicken and surround it with veggies.
Melt the butter and squeeze half the lemon. Add lemon juice to butter; add salt and pepper. Brush this mixture over the chicken and veg, very thoroughly.
Roast the chicken and veggies for an hour, basting frequently with pan juices that will appear after half an hour, and the butter.
Test the chicken with an instant read-thermometer, which should be at 165° F for the chicken to be done. If your chicken is really meaty, cooking may extend to 1.5 hours or longer. If you don't have an instant read thermometer, poke with a large fork; the juices should run clear, and the leg and wings should move very freely when jiggled.
When done, remove the chicken to a platter on which you can carve it into pieces. Separate the breasts, and lay them, intact, on a platter, Slice the breasts, each with skin attached unless you're dieting in which case remove the skin, into 6-8 pieces each. Refrigerate the rest of the chicken, wrapped tightly in foil or plastic wrap.
Put breast slices on a platter with the veggies. Turn your attention to the pan. Deglaze if necessary with ½ cup white or red wine. Pour the juices into a serving jug.


Serves 2 with half a breast each, veggies and pan juices. Reserve the remaining breast meat for later.
BBQ chicken legs and wings
2 wings, 2 legs
BBQ sauce (I use Diana's Gourmet BBQ Sauce) but your own preference as to heat and spices.
Preheat oven to 350, or light BBQ.
Remove both wings and legs from the refrigerated chicken.
Brush BBQ sauce on all sides of the legs and wings.
Heat the chicken pieces until sauce and skin look crispy and brown, about 15 minutes in a 400° F oven. Or grill on the BBQ.
Serve with salad, rice or pasta, bread and butter, and big napkins.
Chicken tacos
2 large soft wraps
2 cups of diced chicken cut from remaining breast meat and the carcass of the chicken
1 package taco seasoning
1 cup water
1 onion, diced
2 tbsp canola oil
3 fresh green onions, cleaned and sliced
¼ cup grated cheddar cheese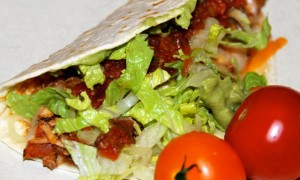 1 package cole slaw cabbage, chopped
dressing as below for cole slaw
Brush a large pan with a little oil and heat the tortilla wraps until soft and just beginning to brown, about 40 seconds on each side. Wrap in foil and keep warm.
Fry the onion in the oil in a wide frying pan. Add the taco seasoning and 1 cup of water. Add the diced chicken. Cook over low heat 10 minutes.
Make the cole slaw with this dressing:
¼ cup mayonnaise
¼ cup fat free Greek style yogurt
2 tbsp lemon juice
1 tbsp vinegar
1 tbsp sugar
1 tsp salt
ground fresh black pepper
Add half this dressing to 2 cups chopped cabbage. Mix well. Reserve the rest of the dressing for chicken salad below.
Make the tacos: spread half the chicken mixture on half of each tortilla wrap; sprinkle chopped green onion and grated cheddar cheese over the chicken mix and fold over the other half of the wrap. Serve with cole slaw.
Chicken salad



Before the heat wave, I thought of pasta with chicken and walnuts, but changed my mind as the temperature rose.
You can make easy dish this fancier by toasting the almonds: melt ¼ cup of butter in a small frypan; add the slivered almonds and toast until the almonds just begin to turn brown and smell enchanting.
2 chicken thighs. You can also add any leftover chicken other parts of the bird.
2 large stalks of celery
1 red pepper, diced small
2-3 small pickles
½ cup slivered or sliced skinless almonds
¼ cup butter
¼ cup of dressing for cole slaw, above.
Remove the skin from the chicken thighs. Cut the meat from the chicken thighs off the bone and dice. If using other chicken meat, be sure that no bones or cartilage remain.
Mix all ingredients well.
Serve half the chicken salad per person (serves 2) piled atop a plate of lettuce leaves, with sliced tomatoes, pickles, sliced cucumbers and other veggies to taste. You could add hard boiled egg slices, olives, radishes, asparagus spears, carrot sticks, kohlrabi slices, daikon, white salad turnip, and so on.
Veggie soup from chicken stock
You have saved the bones from each meal, and the carcasse , as it's called in French, of the chicken, so much more palatable somehow than the English word carcass.
Make chicken stock
the carcasse de poulet
6 cups water
2 carrots, chopped
1 onion, diced
2 stalks celery
whatever veggies you may have in the bottom of the fridge, at least the not-too-strong-tasting ones
1 tsp salt and 1 tsp pepper
juice of 2 lemons
Bring all the above to a rollicking boil then lower the heat and simmer for 1-2 hours, until the meat is falling off the bones of the chicken. If you had any pan juices left over from the original chicken meal, add this to the pot.
Get a big bowl and a collander, and also a strainer. This is a messy business but the stock is worth the trouble. Cool the broth ½ hour, then ladle the broth and bones into the collander placed over the large bowl. Cool the mixture. Chuck the bones and the now overcooked veg. If possible, refrigerate overnight.
Defat the broth: in the morning, skim off the fat layer on top. If you don't want to wait overnight, you can skim the fat off the top of the slightly cooled broth using folded paper towels, which when placed gently over the broth will absorb most of the fat.
Strain the broth into a clean pot. Let this cool. Defat a second time. Pour the broth into mason jars and store in the refrigerator.
Make Easy Chicken Vegetable Soup
This chicken soup is meant for busy cooks. A more classic version, using peeled and cut up potatoes, carrots, celery and peas, takes a little more time but benefits from the same homemade chicken stock. But for the final of the five easy pieces, try this:
4 cups fresh chicken stock
1 package mixed frozen vegetables
1 package frozen hash brown potatoes.
1 tbsp balsamic vinegar
Salt and pepper, or Mrs. Dash, or Spike.
Add 1 package mixed veggies to the broth, and ½ a package of hash brown frozen potatoes. Add other fresh veg to taste. Add seasonings, and add parsley, basil, thyme, or seasoning to taste. Cook for 20 minutes: bring to a boil then turn heat down and simmer. Top with salsa and sour cream, or parmesan cheese, or croutons. Parmesan crisps are nice too.