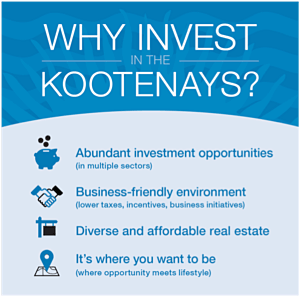 Invest Kootenay has launched a new online widget that allows its community partners to add a live feed of local business investment opportunities to their website. This also means that when business opportunity holders create a free listing at InvestKootenay.com, their listing will automatically be displayed on multiple websites.
Anyone with a website can use the new widget to generate a live link to the Invest Kootenay website, and display thumbnails of business investment opportunities directly from the Invest Kootenay listings. Content will be automatically updated as new listings become available.
The widget can be customized for your own web site to display specific opportunities from your own immediate community, or via a key word search.
Invest Kootenay is encouraging its community partners to make use of the widget and promote business investment opportunities in our region. A wide variety of opportunities are currently listed on InvestKootenay.com, including businesses such as restaurants, hotels, industrial services, manufacturing and retail.
"We'd like to spread the word about the excellent business investment opportunities that are currently available in the Kootenays," said Lisa Cannady, Invest Kootenay's regional coordinator. "The widget makes it easy to share the information and provide great content for our partners' websites at the same time."
She said the Invest Kootenay widget would make a great addition to websites of chambers' of commerce, lenders, real estate agents, tourism organizations, economic development agencies or local governments.
You can check out the Invest Kootenay widget generator at http://www.investkootenay.com/widget-generator.
Invest Kootenay is a partnership of Kootenay-region communities who have joined forces to attract, retain, and expand business investment in the Kootenay region. The Invest Kootenay's partnership commitment to attracting investment has made a difference. Within the past five years, there have been 32 confirmed investments in Invest Kootenay listed opportunities, representing $7.5M in direct investment to the region.