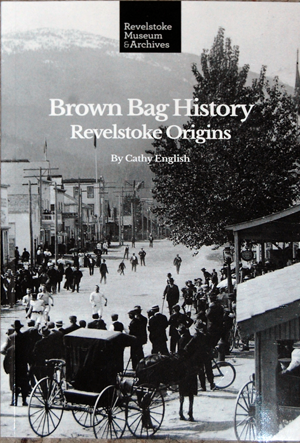 By David F. Rooney
At 130 pages Brown Bag History: Revelstoke Origins is a slim little book, but there's nothing insubstantial about its content — the early years of our community's beginnings.
Author Cathy English's first stab at writing a book details our city's story from prehistory to the early part of the 20th century. As you can tell from the title it is based on some of the more than 200 Brown Bag History talks she has researched and written since starting the series in 2003.
While some people might not consider our stretch of the Columbia as not having a history prior to its settlement by people of white European stock, Cathy spends the first seven pages of her book addressing the question of native use of the river and the forests that cling to its banks. I say question because until very recently many Revelstokians thought that First Nations people were not really part of the immediate landscape.
Since then most of Revelstoke's 7,000-odd inhabitants have learned that they were wrong. The Sinixt, Secwepemc (formerly called the Shuswap), Sylix (formerly known as the Okanagan) and Ktunaxa tribes used this portion of the lands along the Columbia River as major source of food, furs and other resources.
Cathy notes in her book that we were all wrong and chronicles the often-sad and sorry relations between natives and white settlers in our area.
In the other 11 chapters Cathy writes retells the story of Arthur Stanhope Farwell, the so-called hanging judge Sir Matthew Begbie, the Farwell Police War, the arrival of the CPR and other notable events, including a recounting of the tale of the Indian allegedly frozen in the ice on Mount Begbie. Cathy used newspapers of the day, including the Kootenay Mail, Kootenay Star, Revelstoke Herald and the Victoria Daily Colonist as sources, as well as a number of books, records in the museum's own archives and documents in the provincial archives in Victoria. The book is illustrated with historical photos and four cartoons by Revelstoke Review cartoonist Rob Buchanan.
It's easy to imagine that all this not-so-ancient history may be dull reading but Cathy has infused the book with her own dry wit and conversational way of speaking. I purchased my copy during the launch on Thursday afternoon and finished reading it late Friday night. So, it's fair to say that I couldn't put it down.
Brown Bag History is well worth purchasing for yourself, a friend, a neighbour or anyone who loves our town.
This is a very good read.
Brown Bag History: Revelstoke Origins, by Cathy English, published by the Revelstoke Museum & Archives, printed by Friesens Corporation, 136 pages, $20.