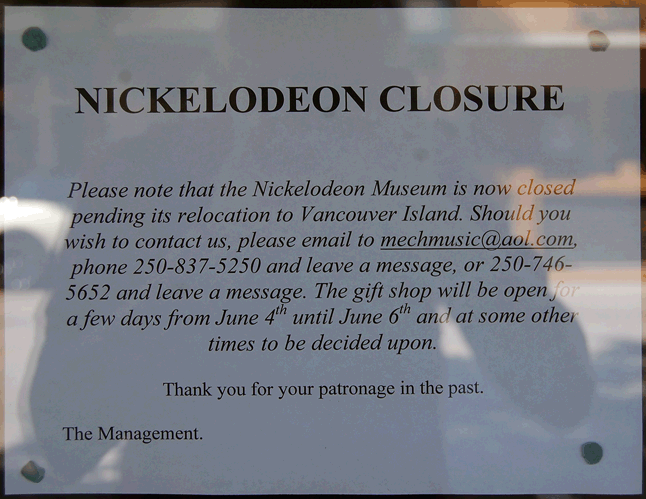 By David F. Rooney
The music is coming to an end at the Nickelodeon Museum on First Street West.
Museum proprietors David and Leslie Evans have not only sold their house in Arrow Heights, but their museum's home in the 104-year-old McKinnon Building. As a matter of fact, their entire collection of films, slides, projectors, radios and mechanical, and electronic musical instruments are being packed up and moved to Cowichan Bay this week.
Their departure leaves a void in Revelstoke's cultural community. The museum is the only one in Canada dedicated to mechanical and electronic instruments, some of them over 200 years old.
David and Leslie, and their son Michael, moved here a decade ago and successfully created a space for their unique cultural offerings. Besides offering tours of their fantastic collection of musical devices, they held memorable and very entertaining Christmas shows with their antique brass and wood Magic Lanterns and collection of hand-painted glass slides. Those delightful shows always involved members of the community such as Robyn Abear, Peter Waters and Ken Jones. That community participation in a pre-industrial form of entertainment harkened back to the world as it once was; a world where entertainment was not only simpler but directly engaged the imagination of people young and old. Think of a world before the Internet, before television and even before film and radio. The Evans' Magic Lantern shows always sent me spinning back through time to taste the world as it once was. I for one will miss that a very great deal.
David and Leslie were active members of the Arts Council, the Chamber of Commerce and the Museum & Gallery Collective, which produces marketing for all of Revelstoke's museums as well as the Visual Arts Centre. And, too, they organized the Bygone Era Entertainment Society to sponsor screenings of rarely seen films from the early-to-mid-20th century. The proceeds from those screenings, like the donations they received at there Magic Lantern shows all went to local causes such as the Community Connections Food Bank. The society also commissioned two lovely murals, painted by Tina Lindegaard and Sue Davies, that now brighten the alley beside it.
Polite, well-educated, perceptive and generous, the Evans, who were sworn in here as Canadian citizens in 2010, largely enjoyed life in Revelstoke but the winters became too much and they longed for a gentler clime. Hence, in part, their move to Cowichan Bay,
David and Leslie, you will be missed.