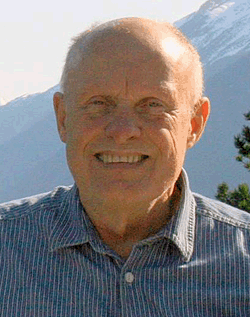 Ronald Gordon Lind passed away suddenly at his residence in Revelstoke on Friday, May 15, 2015, at the age of 64 years. A Memorial Service will be held at the Revelstoke United Church on Saturday morning, May 23 at 10 am with Reverend Ken Jones officiating. In lieu of flowers, memorial contributions may be made to the Revelstoke Railway Museum or any charitable organization.
Ron was born in Kamloops, BC, on August 30, 1950, and had been a resident of Revelstoke for most of his life. He enjoyed hiking, photography, gold panning, and star gazing among many other things. Ron was an avid baker and many friends were fortunate to share in Ron's tasty treasures. He was an avid community volunteer and was always helping others in any way he could.
Ron was predeceased by his father Roy in 2002 and his second wife Phyllis in 2012. He is survived by two children: Kristi Lind of Revelstoke and Jamie (Virgie) Lind of Revelstoke; two grandchildren: Claire and Cole, both of Revelstoke; his mother Jean Lind of Salmon Arm, one uncle Bill (Betty) of Vancouver; the mother of his children, Susan Lind of Revelstoke, as well as numerous nieces, nephews, cousins and many good friends.
Messages of sympathy may be sent to Ron's family by viewing his obituary at: www.brandonbowersfuneralhome.com.
Cremation arrangements are in the care of Brandon Bowers Funeral Home, Revelstoke.