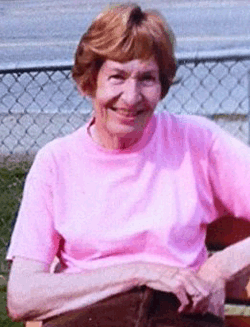 It is with heartfelt sadness that we announce the passing of Faith Jones on Tuesday, May 12, 2015, at the age of 77 years. She is survived by her husband Tom of Revelstoke, daughter Kimberley (Lance) of Surrey, B.C., son Patrick of St. Albert, Alberta and step-daughter Tracy (Brian) Bawtinheimer of Victoria as well as her grandchildren: Aaron and William Rasberry of St. Albert, Emma and Ava Morrow of Surrey and Matthew and Ian Bawtinheimer of Victoria. Fai was predeceased by her parents, Raymond and Lillian McDonnell of Revelstoke and brothers Bill and Jim.
Memorial Service details will be forthcoming.
Fai was born on February 14, 1938, in Revelstoke. She was a true Valentine's Day baby – she always had lots of love in her heart for her family and friends and for those in need. She grew up as Daddy's Little Girl and was doted on by her Father. She passed on this love to her children and grandchildren who meant the world to her. As a young woman Fai's life was one of adventure. She travelled the world and then settled down and eventually relocated back to Revelstoke with her children where she met the love of her life, Tom. She was an amazing pianist, painter, gardener, wife, mother, grandmother, cousin and friend and will be missed by all whose lives she touched dearly.
A special thanks to Dr. Cam MacLeod and the staff at Mt. Cartier Court for their support and for doing such an amazing job in caring for Fai. In lieu of flowers, donations in memory of Fai may be made to the Alzheimer Society of B.C. online or by mail to 300-828 W. 8th Avenue, Vancouver, BC, V5Z 1E2.
Messages of condolence may be sent to the family by visiting Fai's obituary notice at www.brandonbowersfuneralhome.com
Cremation arrangements are in the care of Brandon Bowers Funeral Home, Revelstoke.