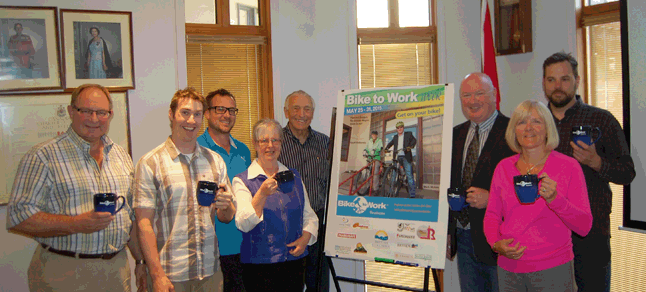 Depending on where you live in Revelstoke, biking to work almost anywhere is probably only a matter of pedaling a few kilometers in any direction. Be that as it may, since Bike to Work Week started six years ago, 2,525 Revelstokians have cycled 60,700 kilometres getting to work.
Last year alone, all-around cyclist Geoff Battersby told City Council last Tuesday, participating Revelstokians biked 16,300. That's pretty damn good and there are hopes that hundreds of city residents will be even more energetic during this year's Bike to Work Week, May 25 to 31.
"The goal is to have people take up biking as their usual means of local transport — be that for shopping, going to the Post Office, getting some good exercise or whatever," Battersby told Mayor Mark McKee and members of Council.
This year, McKee has challenged the City of Smithers to see if it can put more people cycling more kilometers than Revelstoke.
Participants in BTWW should register with the BTWW Committee. You can start or join a BTWW team at your workplace, church or other organization or create one with friends. You can also register as "a solo participant as a team on one," Battersby said.
Ceramic mugs are being used as BTWW promotional items and many will be given away during random draws. In other twists to this event Bike To School Week is being formalized as part of BTWW and there will be more "celebration stations" for longer time frames this year. Come on by the Celebration Stations for coffee and refreshments, say hi to your fellow cycle commuters, get a minor tune-up to your bike (definitely Monday, possibly also on additional dates) and enter to win special prizes drawn for Celebration Station attendees only! Your odds of winning a prize increase every time you attend a Celebration Station.
Staff from Flowt Bikes and Skis and Skookum cycle and ski will be providing minor tune-ups at each of the Celebration Stations on Monday May 25. Is your chain skipping gears or falling off the front chain ring? Let the bike techs see if they can make some quick adjustments to fix your issue!
Grizzly Plaza Celebration Station will be open from 6:45 am to 9 am Monday through Friday during Bike to Work Week.
Queen Victoria Hospital Celebration Station will be open from 6:30 am to 9 am on Monday and Friday during Bike to Work Week.
NEW  Wooden Head Park Celebration Station will be open from 6:45 am to 9 am Wednesday, May 27.
And, this year's grand prize is a Specialized Crossroads bike donated by Flowt and Specialized Canada.
Battersby pointed to Pharmasave's Andrew Moore as an example of what can be accomplished during BTWW in terms of lifestyle change.
A couple of years ago Moore was out of shape, overweight and beginning to feel the effects of that. The he started biking. He first participated in BTWW in 2013 and last year he cycled from Edmonton to Revelstoke during BTWW. He has promised a $500 prize to the community if it cycles more than 20,000 kilometres this year and, in 2016, he proposes to ride rom Inuvik to Dawson City.
Now there's a challenge!
Please click here for more information.