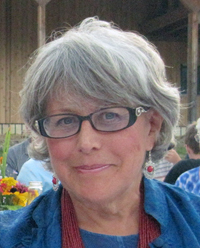 Cream of Garden Chive Soup with Parmesan Crisps (GF)
Chive Vinaigrette (GF, ND)


Food security: few phrases bring home to me with such clarity the generation gap of which I'm at the increasingly distant end.
I grew up in an era when Canadian families all ate together because in the post-war era food was still scarce, and attitudes to it reverential. A total absence of fast food outlets, delis, coffee shops and ethnic restaurants (there was one, Italian, in all of Ottawa, where I grew up, and we ate there once a year) meant one cooked meal a day, one roast a week and be home for dinner by six or there isn't any. Sunday roast, Friday steak, and on other nights of the week sausages or spaghetti or pancakes or toad-in-the-hole or creamed peas on toast. Rice was an exotic foreign food I didn't taste until I was 14.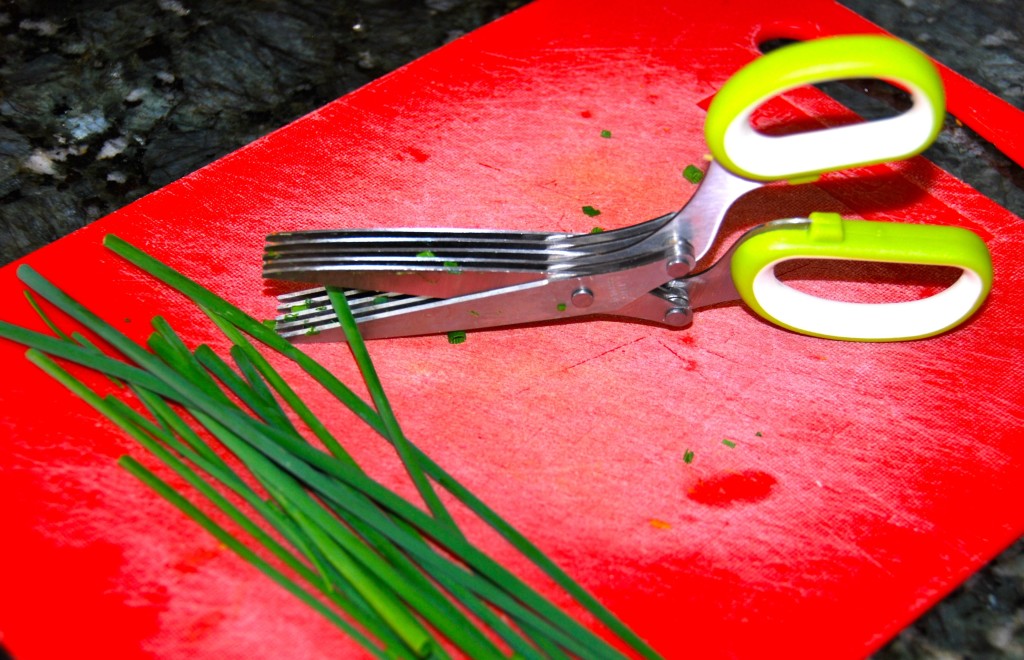 I confess that food security at first was a mystery to me. Avalanche cutoffs and California drought notwithstanding, are we truly afraid of food shortages? Maybe. My grandmother when young wintered on potatoes and sowbelly, and a billion Chinese existed throughout the Cultural Revolution on pickled cabbage. However, after reading the report (Please click here to read the story, few the presentation and/or watch a video of their presentation) presented by Hailey Ross and Fraser Blythe to Council this week, I realize that the Savage Delights column I've been writing for 4 years in this publication is in fact about two of the food security goals: education, and food culture. These are to
promote the significance of food quality, cooking and preserving skills, food traditions and the importance of eating together to our health and well-being. (Goal #3)
and to
increase knowledge of food security, local food systems and actions that can strengthen food security by public officials, community agencies, business owners and residents of Revelstoke. (Goal # 5)
One reason for Savage Delights was David Rooney's certain knowledge that many young people in town live on Big Macs and Subway sandwiches. Not that these aren't nutritious, in their way, but cooking at home, as he and I both know (ask about his bouillabaise), is not only healthier — see the Time magazine special supplement now on the stands, dedicated to getting more folks to cook at home —b ut can be profoundly satisfying.
The goal of Savage Delights is to celebrate real food; to give some background on how we eat and why; and to offer recipes for cooking, at home.
The educational goal is a general one, but in terms of specific issues, you may remember some columns we published several years ago about the high cost of food in Revelstoke. I did these by purchasing a standard list of foods for a family of four, in three cities and four outlets: Coopers, Southside in Revelstoke, Askews in Sicamous, and Superstore in Vernon. The research showed that you could save about 30% of the grocery bill by going to Vernon, gas included.
The response was amazing. Some readers phoned and wrote to ask for more of this sort of comparison. Others vilified me for encouraging out-of-town shopping. In the end, the brickbats were so aggressive, with readers accusing me of trying to destroy Revelstoke culture and undermine Revelstoke merchants, that I abandoned the effort.
My intent, far from undermining local commerce, was to do the opposite by getting Coopers and Southside to lower prices so that Revelstoke residents might resist going out of town for groceries. Some hope. When I telephoned the Pattison head office (Cooper's) the repeated mantra was that the goal was to maintain the highest possible quality in offering produce. No-one on the P.R. side ever mentioned distribution costs (can driving Eagle Pass be 20% more expensive than stopping in Sicamous?) or profit margins (a deep throat source told us that Revy Cooper's is the most profitable per square foot in Empire Pattison.) The local staff wisely refused comment on this issue at all, but shortly after the column was published, when I went into Cooper's one day with a camera slung around my neck from another shoot, I was approached by a staff member and told rather sharply that photographs were not allowed in the store.
As it happens I believe Cooper's offers high quality produce and an interesting and expanding range of other items. Southside is also a neat grocery store, and meat department staff especially go out of their way to get you just the cuts you want, and provide excellent products. The staff in both shops are outstanding for their friendliness and service orientation. Plus when you know your local store layout, shopping takes half the time.
The point is that Savage Delights is strongly interested in "local food systems," especially food distribution systems, but response to the price comparisons taught me that a public stoning was not unlikely were I to continue—a sure sign that more research is needed on this critical issue.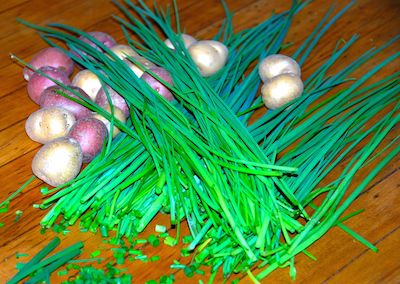 Growing your own turns out to be an option depending on soil and sunlight. Two years ago we put in two raised beds. My lettuce and strawberries thrive on the weakly filtered sunlight as it struggles through the maples, and kale grows anywhere. But it is a LOT of work to grow good veggies and Herman, Tara and others who sell at the market do it so well. My big successes are chives and mint, but how much can any two people use?


As for keeping cows and chickens in town, well good luck and hang the flypaper. I'm not into animal husbandry, nor butchering what would in our household quickly become a family pet, but sure, if my neighbours long for a hog or two under the trampoline, why not? Smells are all a matter of getting used to. Come to think of it a goat on a longish tether might get rid of the lawnmower, though wintering-over raises porch issues. And bye-bye to the rhodos on Mount St. David.
And so back to food culture. Let's use what's here, is one goal. Chives are one of the easiest things to grow. They seem to scare away aphids and slugs. I plan to move some into my tiny rose garden and plant them under my earwig-gnawed rhodos. Perennials, they come up first and last all summer; even now in our weak spring warmth chives are budding enthusiastically. Here's a recipe for garden chive soup, and one for chive vinaigrette to drizzle over anything from baby lettuce to a cheese sandwich. Chives contain Vitamin A, Vitamin C, folate and potassium. The flowers are edible, so garnish freely with them, or with more chopped stalks.
Cream of Garden Chive Soup (GF) with Parmesan Crisps



This attractive pale green soup uses big handfuls of chives—2 cups of chopped chives requires a good big bunch. I use herb scissors for best efficiency. (Big Mountain sells them.) This is easy despite the list of ingredients. If you don't own a blender leave the spuds in a smashed rather than mashed condition and the chives in bits., and call it Potage.


2 tbsp butter
4 cups salt-free veggie or chicken broth
1 tsp sugar
1 tsp salt
1 tbsp white wine vinegar
¼ tsp hot sauce
2 cups mashed potatoes
1 cup milk
2 cups chopped chives
salt and pepper to taste
In a large heavy-bottomed pot, mix the butter, milk, stock and mashed potatoes. Bring to a boil.
Add 2 cups chopped chives.
Whiz in the blender until all smooth except for a few chive bits. (Be careful when blending hot liquids: cover the top of the blender with a folded tea towel and press hard while whizzing.) Return to pot.
Add the sugar, salt , vinegar, and hot sauce. Stir well.
Serve and add sprinkles of chives on top.
If you find the soup too thick, thin with milk or water or white wine to desired consistency.
If your chives have flowered, garnish with a chive bud or flower. GREAT colour.
Make your own crackers to go with this soup. These are failproof, easy and yummy.
Parmesan Crisps (GF)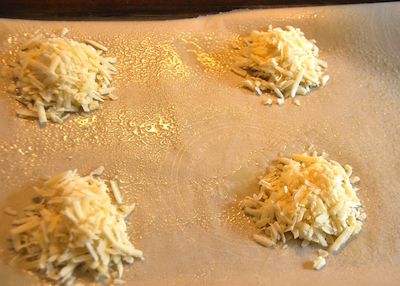 Until Salmon Arm cheesemakers can rival Italian Parmesan, here's where I part company from the 100 mile diet.
1 ½ cups coarsely grated Parmesan cheese
1 tbsp potato flour
Heat the oven to 350 F.
Mix the grated Parmesan and the flour in a bowl
Line a cookie sheet with parchment paper.
Spray the parchment with canola oil cooking spray, or butter it
Put four mounds of Parmesan-flour mix on the oiled parchment, using about 3 tbsp for each mound
Bake for about 10 minutes, until the Parmesan is melted.
Let cool for 10 minutes, then carefully remove to a fresh sheet of parchment paper on the counter. The crisps are very delicate at this stage, so do this very carefully.
Repeat with remaining Parmesan-flour mix. Makes 8 crisps.
Chive Vinaigrette (GF, ND)
1/3 cup olive oil
1 tsp Dijon mustard
1 tsp cider vinegar
juice of 1 lemon (2 tbsp)
1 cup chives, very finely chopped
½ tsp salt
Mix everything together, rather vigorously. You can whiz in a blender if you want a smooth vinaigrette. Fresh spring chives are quite grassy, so if you prefer to add a teaspoon of sugar it won't kill you. Makes ½ cup.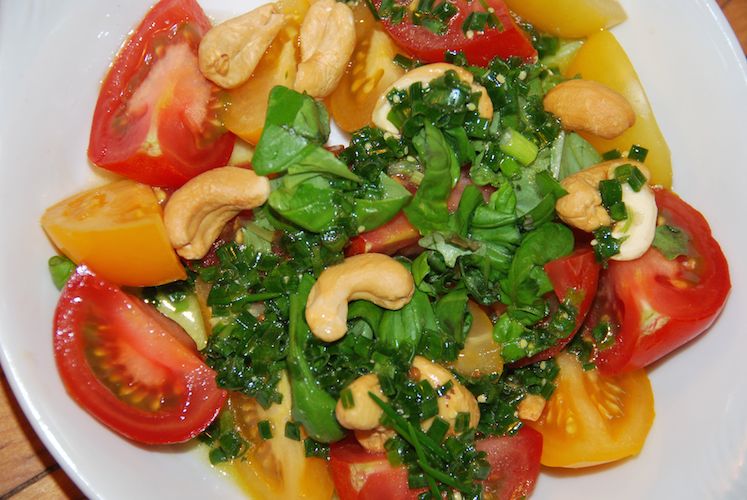 Jamie Kennedy (The Jamie Kennedy Cookbook) serves his version of this vinaigrette (with raw egg yolk and less oil) as an appie in shot glasses with 3 stalks of asparagus sitting head down in the lovely lemony chive mix. I tried this—you need to just cook the asparagus so that it stands up in the shot glasses, and for this, fresh spring asparagus is pretty much necessary (imported asperges require about 7 minutes in the steamer, by which time they, well, droop.)
Until fresh local asparagus comes in, serve the vinaigrette over tomatoes, salad leaves, or in the shot glasses with crudités, or sop it up with a nice load of rustic fresh bread from The Modern or from La Baguette or from your own oven, torn into pieces.