By David F. Rooney
When the curtain goes up on the Revelstoke Theatre Company's production of Proof at the Performing Arts Centre on Thursday the audience will be treated to one of the best plays it has ever taken to the stage.
This four-person, Pulitzer Prize-winning drama by David Auburn swirls around Catherine (Ana Pollo), the daughter of Robert (David Hawthorn), a recently deceased mathematical genius and professor at the University of Chicago.
Catherine had cared for her father through a lengthy mental illness. Upon Robert's death, his former graduate student Hal (Benjamin Menzies) discovers a proof about prime numbers in Robert's office that he is certain will rock the world of mathematics. He believes Robert had written it and is shocked when Catherine claims authorship.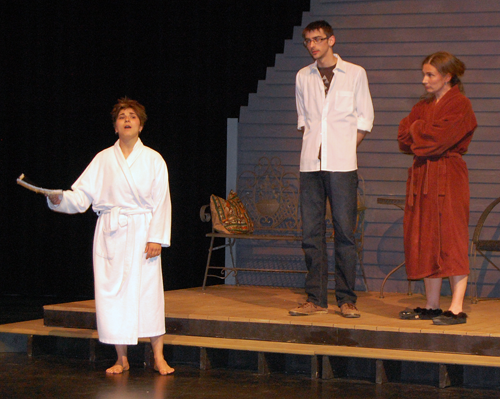 Meanwhile, Catherine's older sister Claire (Sarah Harper), home from Manhattan for her father's funeral, decides to sell their old house and thinks Catherine should return to New York with her. She, too, doubts Catherine's ability to create the mathematical proof.
Proof, directed by Denny Kaulback, is a taut, provocative and deeply engrossing exploration of the nature of love, genius and madness. It is also the first play I have seen in 14 years of reviewing Theatre Company productions that includes a sexual seduction.
The acting in Proof is excellent, particularly by Hawthorn who studied drama at McMaster University. Watch for his breakdown. It is very convincing.


Menzies is an excellent choice for the role of Hal. He looks and sounds like a mildly geeky graduate student while Ana Pollo brings a near-ferocity to her role as the unrecognized math genius, Catherine. She seems normal at first but there's something just a little 'off' about her. Sarah Harper brings take-charge energy and a convincing sense of normalcy to her part as Catherine's professionally successful sister, Claire.
This is most definitely not a play for young children. The themes are very adult and there is some coarse language.
Sadly, there will be no Zone festival this year because Proof with its excellent script and very strong cast would be a shoo-in to win.
Don't miss Proof; it's terrific.
Finally, a few words about the set. All of the action takes place in the backyard of the family's aging house in a Chicago suburb, which is evoked by siding, a deck, fence, patio furniture and a notional tree. It's spare and quite good.
Proof is being performed at the Revelstoke Performing Arts Centre on April 30, May 1 and 2, and on May 7, 8 and 9. The doors open at 7 pm and the curtain rises at 7:30 pm.